Dell XPS 625 and XPS 630 now have liquid cooling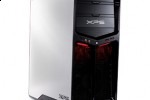 Now this is "cool." Ugh, that was an awful pun. The Dell XPS 625 and XPS 630 have just gotten a liquid cooling option added to their specs in place of the standard fan-cooling option.
The Asetek liquid cooling system provides for a more even cooling of the processor and makes overclocking a much more versatile possibility for users that really want to get the most out of their systems.
This cooling option also reduces the noise, as there's no loud fan noise to contend with. Since both of these computers include the Intel Core 2 Extreme and are unlocked, making speed boosts much easier, having a stronger cooling option just makes sense. To add the Asetek liquid cooling option, it will cost you nearly $120 extra on top of the $899 and $1,099 priced XPS 625 and XPS 630 gaming towers. The new option will be available by the end of the month.