Dell Video Outs Latitude ST Windows 7 Tablet Early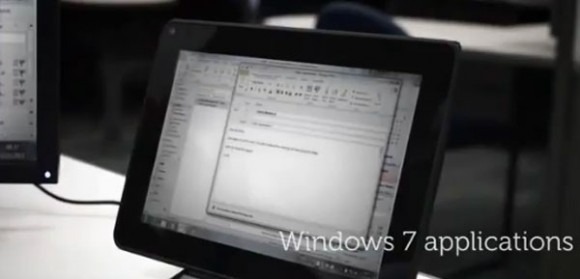 Dell has been working to get into the tablet market for a long time, as have several other firms. A new video was apparently posted early to the web by Dell that shows off the firms Latitude ST tablet that is running Windows 7 and aimed at the business, medical, and education markets. The video shows the tablet in the business realm allowing the user to wander around the office collaborating and working on things and then marching back to the cubicle and docking the tablet on a docking station.
That docking station shoots the video out to a larger screen to make working more comfortable. The docking station also appears to support a keyboard and mouse. The tablet has a USB port for accessories and a memory card reader. The video also touts the tablets ability to connect to projectors and wireless networks. The tablet also has front and rear cameras.
Another part of the video shows the tablet in an education environment where kids are able to draw on the tablet with a finger or a stylus. The tablet has security features like remote hard drive wipe, and it supports Microsoft Bitlocker and is Kensington Lock compatible. The Latitude ST is also aimed at the medical realm with data protection for sensitive patient data. The tablet also packs in a HDMI output. The pricing and availability details are not available at this time.
[via Netbooknews]