Dell Venue 8 Lollipop brings the gift of force encrpytion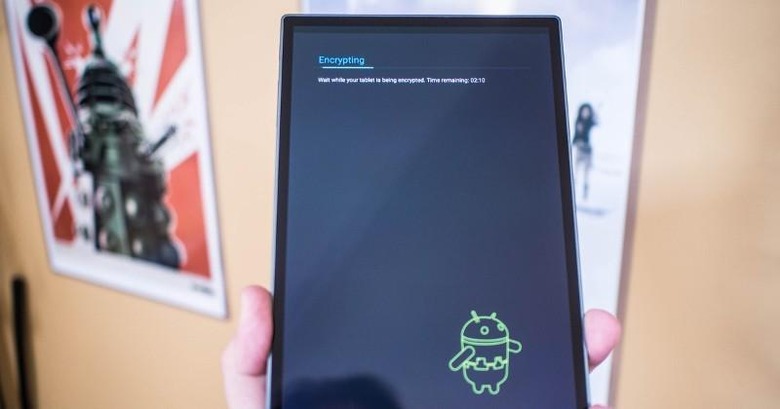 Early adopters of Dell's RealSense-empowered Dell Venue 8 tablet rejoice! Users are reporting that they are receiving a large update that will bring their tablets into the age of Android Lollipop. But early adopters also beware! Dell is doing something that no OEM has dared to do when upgrading their devices from pre-Lollipop to Lollipop. It seems that Dell has chosen to force data encryption on owners of the device as part of the update process, whether they like it or not. And some will definitely not.
Normally, we'd advocate data encryption, especially in this day and age of rampant malware and spyware. Apple already encrypts its devices and, for a time, it seems that Google would be following suite. In fact, its newest Nexus devices did come with encryption enabled by default. To be fair, Android already had that feature a few versions back, but Google was expected to make that the default configuration for newer devices.
That, however, hit a bit of a technical snag. Early reports showed that devices with encryption incurred performance hits compared to un-encrypted ones. When the first non-Nexus Lollipop devices started to appear without device encryption out of the box, the hunches were all but confirmed. Google put the nail in the coffin when it formally announced that, yes, encryption by default is not yet ready for prime time and will be, for now, only an optional requirement. At least until the day when Google is confident about the performance of encrypted devices.
Dell must either be very confident or too confident if it's trying to pull this off right now. Or perhaps it believes that its Venue 8 tablet is different enough not to suffer the same fate. For one, it runs on an Intel platform instead of your usual ARM Qualcomm, MediaTek, or Exynos chip. For another, it's a device that is geared more for the workplace than just for personal fun.
That last bit might be the reason why Dell is taking the opportunity to encrypt devices. In the workplace, encryption isn't a luxury. It's a must. We'll still have to wait for the first feedback on newly encrypted tablets to really see if it was worth the process. Sadly, it's also a one way street, as permanently decrypting the phone will involve a factory reset.
VIA: Android Central