Dell talks about the demise of Windows XP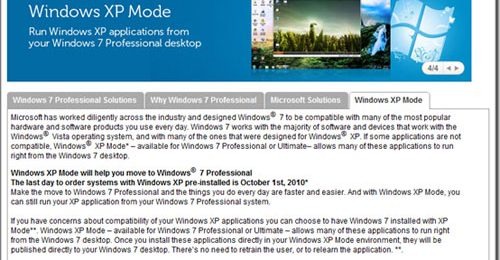 With Windows 7, doing well on the market we all knew that the day was coming when XP would be killed off permanently by major OEMS and Microsoft. That day is coming very soon and Dell is talking about the official end of life for Windows XP on machines that you can buy from them.
If you are a big XP fan looking at buying a new computer you will want to order that rig very soon. Dell says that per Microsoft regs, it will no longer be able to ship computers with XP Pro or Home after October 22. Dell also says that it will stop offering XP as an option on computers this month in preparation for the deadline.
Dell will continue to support XP machines until December of 2012. Customers ordering computers via the Dell Custom Factory integration service will continue to have access to XP equipped PCs after the deadline. Dell also reminds that you can run XP programs on Windows 7 rigs using the XP Mode that is offered. The date that shipments of XP orders have to stop per Microsoft is October 22.