Dell Precision M4700 and M6700 mobile workstations bring brute force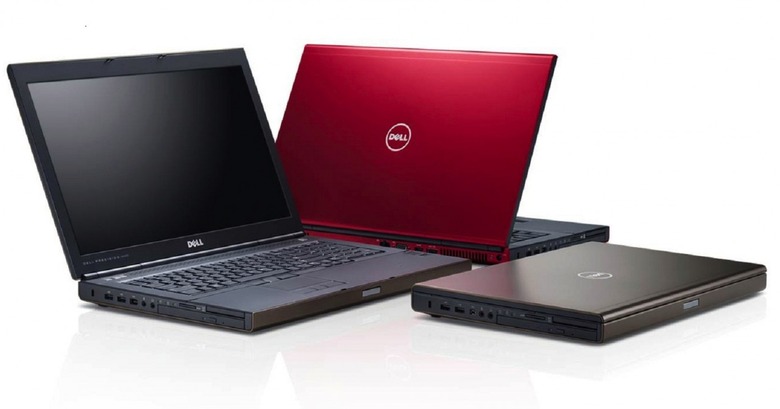 Dell has outed a range of new Precision mobile workstations, billed as the world's most powerful and yet delivering all-day battery life and slotting into the 17-inch segment which Apple recently abandoned. The new Dell Precision M4700 and M6700 pack 15- and 17-inch displays respectively and use Intel Core i5, i7 and Extreme Edition processors paired with a choice of NVIDIA Quadro K-series and AMD FirePro graphics. Down the line there'll be optional multitouch, too.
The Precision M6700 uses its extra bulk to accommodate an optional AMD FirePro M6000 with PCIe x16 Gen 3 for even more graphical crunching abilities, while the special Covet Edition optionally adds in a Phoenix Red casing and edge-to-edge Gorilla Glass 2. Both models get the option of NVIDIA Optimus graphics, and RAID 0/1/5 storage with up to 1.8TB of total capacity (spread across three bays) in the M4700 and up to 2.8TB (spread across four bays) in the M6700.
Up to 32GB of 1600MHz DDR3 memory or 16GB of 1866MHz memory can be specified, as well as up to 512GB of SSD storage. Ports include two USB 3.0, two USB 2.0 and one eSATA / USB combo, along with VGA, HDMI and DisplayPort 1.2. There's also power for up to three simultaneous displays when undocked, or five when docked in a Latitude E-family station.
Screen options include a choice of WLED and IPS RBG LED displays, including some with more than 100 percent Adobe color gamut. The M6700 will also be offered with optional 10+ finger multitouch, though that SKU won't arrive until a few months time. NVIDIA 3D Vision Pro can be specified for the M6700 as well.
The magnesium alloy and aluminum chassis meet MIL-STD 810G standards, and can be paired with an optional slice-battery for extended runtimes.
The Dell Precision M4700 is priced from $1,649, while the company is asking from $2,199 for the M6700 and from $3,579 for the M6700 Covet. Orders are being taken from today.