Dell Now Offering XPS 13 Ultrabook Running Ubuntu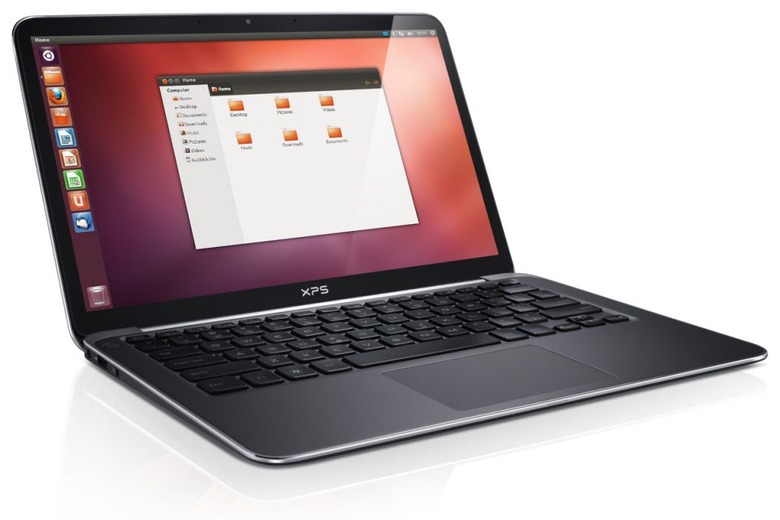 Dell has launched an Ubuntu version of its attractive XPS 13 ultrabook. The ultrabook is aimed at developers, offering them "the essentials they want" bundled up in a Linux-harboring device. The laptop is available for purchase now from Dell starting at $1,449. You can also nab a Windows version of the machine if Ubuntu isn't your thing.
The XPS 13 features a 13.3-inch display with a resolution of 1366 x 768. Inside you'll find an Intel Core i7-3517U 3GHz processor and 8GB of RAM. There's Intel HD 4000 graphics, and a 256GB SSD. The operating system is the latest and greatest Ubuntu version 12.04. It weighs in at a svelte 2.99lbs. Included with the purchase is one year of ProSupport.
ProSupport can be bumped up to 2-year and 3-year service plans for an extra $215 and $330. The machine itself is made from carbon fiber and aluminum, and offers Gorilla Glass for durability. The battery is a 6-cell unit, while the audio is Waves Maxx Audio 4.0. The laptop measures in at just 6mm on its thinnest edge, and 18mm at its thickest point, which is still less than 3/4 of an inch.
Dell offered this statement: "We're super excited about the XPS 13 Laptop, Developer Edition, and want to thank all the developers who have been actively participating in helping us create a laptop designed specifically for them. Basically, we loaded a super sleek Dell machine with Ubuntu to give developers the essentials they want while staying true to our core values of openness and affordability. But the power of the community input really helped make this a big success."
[via Dell]