Dell Mini 3i smartphone launches in China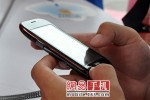 Dell China have brought their
, the first official showing of the
.  According to the launch reports, the Dell Mini 3i is based on the Chinese-designed Open Mobile System (OMS), an Android-based platform, and has less than impressive hardware: the Mini 3i is 2G GSM only, with no WiFi, and only a 3.2-megapixel camera (with LED flashlight) and Bluetooth to brighten things up.
The display is a 3.5-inch 360 x 640 capacitive touchscreen, with a light sensor to dynamically adjust the backlighting.  There's also a microSD card slot, miniUSB port and volume keys, but other than that the Mini 3i is entirely touchscreen-controlled.
A 950mAh battery strikes us a little low for something with such a large touchscreen, but then there's no power-hungry 3G to drain it.  No official word from Dell themselves, but they're tipped to announce their Mobile Market app store later on today; right now it's
.
[
Cloned in China]