Dell Latitude XT2 Tablet PC spec-sheet leaks; launch Wednesday?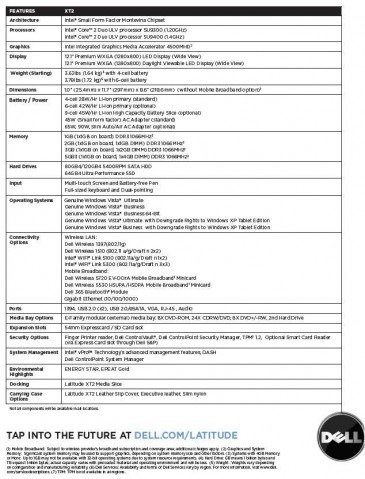 What's believed to be an official spec sheet for the as-yet unannounced Dell XT2 Tablet PC has emerged, confirming the specifications leaked from the convertible notebook's own service manual.  There's also a promised launch date of this coming Wednesday, February 11th, with Dell expected to announce the 12.1-inch touchscreen ultraportable.Full-sized spec sheet after the cut
Going from the service manual and this new spec list, we now know the Latitude XT2 to have either a 1.2GHz SU9300 or 1.4GHz SU9400 Intel Core 2 Duo processor, a 12.1-inch multitouch-capable display, up to 5GB of DDR3 RAM and either an 80GB hard-drive or 64GB SSD.  In addition there's standard WiFi b/g (or optional b/g/n) and optional EV-DO or HSDPA mobile broadband.
Ports include Firewire, two USB 2.0, a combo USB/eSATA, VGA, ethernet and audio in/out, plus there's a fingerprint scanner, ExpressCard slot and SD card reader.  Weight is given as 3.62lbs with the 4-cell battery or 3.78lbs with the 6-cell battery; there'll also be a 9-cell battery "slice" on offer.  No price details as yet, but if the launch date pans out we'll know on Wednesday.