Dell Latitude 7000 ultrabooks unveiled with Intel Haswell inside

Dell has done as anticipated and rolled out the carpet for a couple of new laptops, the Dell Latitude 7000 12.5- and 14-inch ultrabooks. Inside, users will find Intel Haswell processors, with the laptops themselves looking very similar to many older models from Dell's Latitude lineup. Both models of the 7000 series are available now, with the smaller model being priced at $1170 and the 14-inch at $1050.
First up is the Dell Latitude 14 7000, which is featured below. This laptop features a 14-inch 1366 x 768 resolution display, as well as an Intel Core i3-4010U 1.7GHz CPU and 4GB of RAM. Storage comes by way of a 320GB HDD, with – for the time being, at least – there not being any signs of an SSD option. As Liliputing points out, this is interesting given the designation of the new Latitude as an ultrabook.
The laptop itself is small, as expected, measuring in at 0.8-inches thick and weighing 3.6 pounds. There's presently a 34Whr battery included with the machine, but Dell will also be offering a larger 45Whr battery in the future. Speaking of future offerings, there will also be a full 1080p HD display option with touchscreen.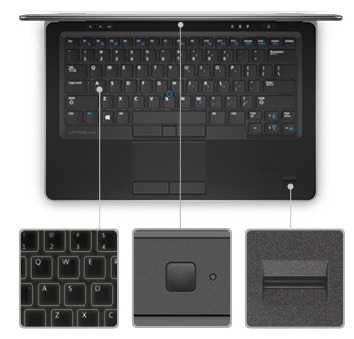 The 12.5-inch model is very similar, and despite the display being smaller in inches, it features the same 1366 x 768 resolution. There's likewise an Intel Core i3 processor and 4GB of RAM, with the storage being more in line with what you'd expect from an ultrabook: 128GB SSD. The thickness is the same, but the battery is a smaller 31Whr offering.
Ports for both models include USB, and Ethernet, and as with the 14-inch model, the smaller Latitude will eventually be offered with a full HD touchscreen display option, as well as WiMax, HSPA+, and LTE and a larger battery option. Visually speaking, both laptops look the same, with size being the only difference.
SOURCE: Liliputing