Dell Latitude 10 and Win RT slate detailed plus wireless Ultrabook dock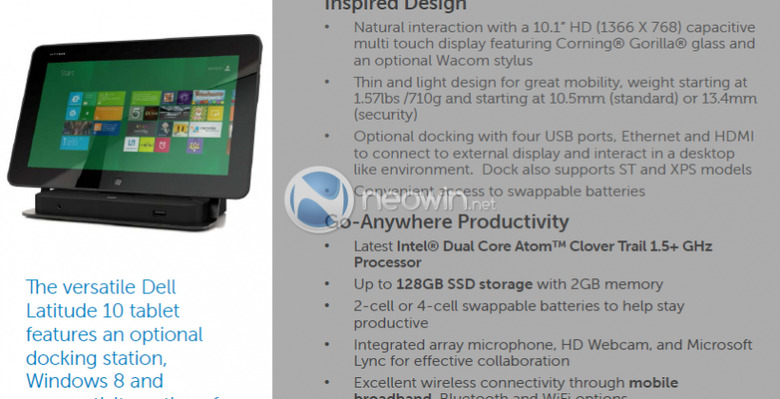 Details of Dell's upcoming Windows tablet pair continue to leak out, with the latest talk suggesting the Latitude 10 Windows 8 model due in mid-November will be preceded by a Windows RT version. The Dell Latitude 10 launch will bring a new docking station with extra ports and charging, according to Neowin's source, while the Windows-on-ARM tablet – name currently unknown – is tipped to arrive in October.
That depends on whether Dell has sufficient time to complete its testing. According to the source, "Dell is having some issues getting Windows RT to a state where they can do robust end user testing" though specifics around the delay are still unclear.
The Latitude 10, meanwhile, will have a dualcore 1.5GHz Clover Trail processor, up to 128GB of SSD storage, WWAN, WiFi and Bluetooth options, and a multitouch 10.1-inch 1366 x 768 display with optional Wacom digitizer. If it wasn't clear that Dell is targeting the enterprise, the inclusion of Microsoft Lync clinches it.
Its docking station includes four USB ports, ethernet and HDMI. Interestingly, the leaked slides also confirm that the dock will be compatible with the Dell ST and XPS notebooks.
Going by the insiders, that isn't the only dock Dell is working on. The company supposedly has plans for a dedicated ultrabook docking station that would connect via high-speed wireless – specific technology unknown – and help convince enterprise users that the ultra-portable Intel-powered notebooks have enough connectivity for business use.