Dell Inspiron Zino HD: nettop size, desktop power?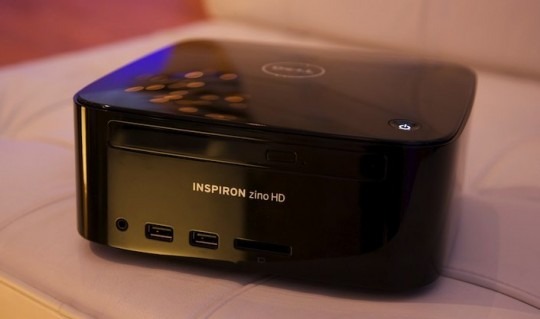 Dell's latest mini-desktop, the Inspiron Zino HD, has broken cover, but the company obviously has some blackmail-quality information about Engadget and Gizmodo as neither site are spilling the details of what's inside the low-profile box.  Known so far is that there's an optical drive, plenty of ports and interchangeable top covers with various patterns and finishes.
Otherwise, all Dell will say is that there are "desktop parts" inside, which we're hoping means something other than Intel Atom processors and rather something more suited to the "HD" moniker.  There are certainly plenty of ports, with four USB 2.0, two eSATA, HDMI, audio in/out, serial and what looks to be a card reader up front.
Size is "a little bit taller than the Mac mini, but not by much" which has us hoping for a compact HTPC to oust our usual DVR.  Fingers crossed Dell spill the beans on specs, pricing and availability soon.