Dell Inspiron R notebooks get interchangeable lids & Sandy Bridge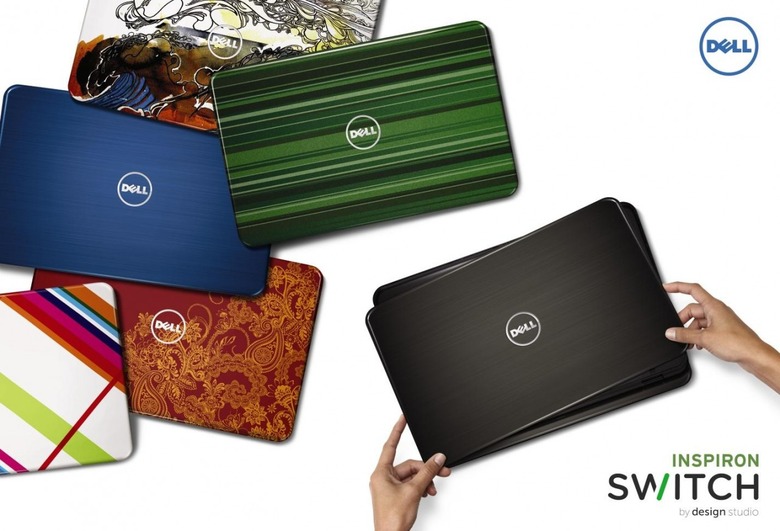 Dell has outed its latest notebook range, the Dell Inspiron R series, a set of 14-, 15.6- and 17.3-inch laptops with interchangeable lids. Powered by a choice of Intel Core i3, i5 or i7 processors, the new machines offer up to 13hrs runtime – with the optional 9-cell battery – together with optional Blu-ray and a choice a different SWITCH by Design Studio lid patterns.
RAM is up to 8GB and there's Intel's WiDi for streaming 1080p and 5.1 surround sound to a nearby display. Alternatively HDMI 1.4a does the same thing for those still into wires. An HD webcam and USB 3.0 round out the key specs, along with WiFi and optional mobile broadband.
In the US, the Dell Inspiron 14R will start from $579.99, the 15R from $529.99 and the 17R from $579.99, all with black lids. Additional lids will be from $39.99. In the UK, only the 15R and 17R will be available initially, priced from £479 and £529respectively, with extra lids from £29.
Press Release:
Switch Into Spring With The New Inspiron R Series From Dell

· New InspironTM R line expands Dell's leading-edge portfolio of products with 2nd Generation Intel® CoreTM processors

· Inspiron R is fun, stylish and fast featuring the latest technology, a superior entertainment experience, impressive battery life and a new interchangeable lid option

· Just pop.click.switch: New SWITCH by Design Studio lids allow for a new look at any moment

BRACKNELL, UK, March 17, 2011 – The new Inspiron R series joins Dell's expansive collection of laptops and desktops equipped with the latest Intel processors and are fun, stylish and lightning quick. Available today at Dell.co.uk, the new Inspiron R 15- and 17-inch laptops deliver incredible mobile entertainment, high-definition displays and outstanding battery life, but that's just the beginning.

The perfect combination of brains and beauty – the latest addition to the Inspiron family also introduces an innovative new design twist: new SWITCH by Design Studio interchangeable lids that switch the look of Inspiron R laptops with just a pop and a click[i]. The SWITCH by Design Studio collection includes 23 new eye-popping lids sporting vibrant colours and unique designs. Start the day with a Peacock Blue lid, and switch it out for a design-inspired look at night. SWITCH by Design Studio will be available with select lids at launch, with more options introduced in the coming weeks.

But the Inspiron R shouldn't be judged by its cover(s) alone. Packing the latest 2nd generation Intel Core technology, the Inspiron R laptops benefit from sleek form factors, up to 13 hours of battery life[ii] with the optional 9-cell battery and incorporate the latest USB 3.0 technology to make transferring photos, videos, music and other graphics-rich files faster than ever.

Performance? Check! What about the lids? Curated collections carefully selected from Dell Design Studio are coming soon. The contemporary art and graphic designs available from SWITCH by Design Studio and will offer exclusive selections from outstanding independent artists, designers and partners including OPI and Threadless and (PRODUCT)RED™, where a portion of proceeds go to The Global Fund to help fight AIDS in Africa [iii].

"Our Inspiron R models equipped with 2nd gen Intel Core processors deliver the ultimate in entertainment and mobility and because customers value both performance and style, the eye-catching lids are designed to suit your mood or style at any given moment," said Sam Burd, vice president Dell's Consumer & SMB Product Group. "With the Inspiron-R series, we're living up to our heritage of delivering the performance you need to do more, and with SWITCH by Design Studio, you can look good while doing it," Burd added.

Inspiron R: The Dell Difference

With a range of entertainment, storage, productivity and show-stopping design options available on the Inspiron R, Dell makes it easy for people to go online and choose the perfect Inspiron R laptop with confidence, knowing it will be a smart investment that will deliver the ideal technology-by-design for them.

Inspiron R: Key Features

· 2nd generation Intel Core i3, i5 and i7 processor options and up to 8GB of memory [iv]

· Weight starting at 2.65kg / 5.84 lbs for the Inspiron 15R[v]

· 6-cell battery included with 9-cell battery options[vi]

· SRS Premium Audio and high-definition video performance

· Intel Wireless Display technology for wireless projection of full 1080p video and 5.1 surround sound to your home theatre for a breath-taking movie-viewing experience[vii]

· Support for Blu-ray 3D movie playback when equipped with the optional Blu-ray drive and connected to your 3D TV (HDMI 1.4 required)[viii]

· Integrated Dell Stage software, providing one-click access to photos, music, videos, social-networking sites, e-books and more

· HD capable webcam

· ChicletTM-style keyboard[ix]

· Genuine Windows® 7 Home Premium with option for Professional

· Optional SWITCH by Design Studio lids featuring the new India Collection and designs from OPI, Threadless.com, (PRODUCT)RED™ and various artists

Pricing and Availability

Inspiron R

The new Inspiron R models are available today in the UK on Dell.co.uk

· Inspiron 15R (SWITCH by Design Studio model with black lid): Starts at £479 inc VAT and shipping

· Inspiron 17R (SWITCH by Design Studio model with black lid): Starts at £529 inc VAT and shipping

· SWITCH by Design Studio lids: Start at £29[x]
Press Release:
Switch into Spring with the New Inspiron R Series from Dell

New InspironTM R line expands Dell's leading-edge portfolio of products with 2nd Generation Intel® CoreTM processors

Inspiron R is fun, stylish and fast featuring the latest technology, a superior entertainment experience, impressive battery life and a new interchangeable lid option

Just pop.click.switch: New SWITCH by Design Studio lids allow for a new look at any moment

ROUND ROCK, Texas–(BUSINESS WIRE)–The new Inspiron R series joins Dell's expansive collection of laptops and desktops equipped with the latest Intel processors and are fun, stylish and lightning quick. Available today at Dell.com, the new Inspiron R 14-, 15- and 17-inch laptops deliver incredible mobile entertainment, high-definition displays and outstanding battery life, but that's just the beginning.

"Our Inspiron R models equipped with 2nd gen Intel Core processors deliver the ultimate in entertainment and mobility and because customers value both performance and style, the eye-catching lids are designed to suit your mood or style at any given moment"

The perfect combination of brains and beauty – the latest addition to the Inspiron family also introduces an innovative new design twist: new SWITCH by Design Studio interchangeable lids that switch the look of Inspiron R laptops with just a pop and a click1. The SWITCH by Design Studio collection includes 25 new eye-popping lids sporting vibrant colors and unique designs. Start the day with a Peacock Blue lid, and switch it out for a design-inspired look at night.

But the Inspiron R shouldn't be judged by its cover(s) alone. Packing the latest 2nd generation Intel Core technology, the Inspiron R laptops benefit from sleek form factors, up to 13 hours of battery life2 on the Inspiron 15R with the optional 9-cell battery and incorporate the latest USB 3.0 technology to make transferring photos, videos, music and other graphics-rich files faster than ever.

Performance? Check! What about the lids? Carefully selected from Dell Design Studio's curated collections, the contemporary art and graphic designs available from SWITCH by Design Studio offer exclusive selections from outstanding independent artists, designers and partners including OPI and Threadless and charitable partners, Susan G. Komen for the Cure and (PRODUCT)RED™, where a portion of proceeds benefit each organization, respectively3. And new with SWITCH by Design Studio, available today, are four Eastern-inspired designs from the India collection.

"Our Inspiron R models equipped with 2nd gen Intel Core processors deliver the ultimate in entertainment and mobility and because customers value both performance and style, the eye-catching lids are designed to suit your mood or style at any given moment," said Sam Burd, vice president Dell's Consumer & SMB Product Group. "With the Inspiron-R series, we're living up to our heritage of delivering the performance you need to do more, and with SWITCH by Design Studio, you can look good while doing it," Burd added.

Inspiron R: The Dell Difference

With a range of entertainment, storage, productivity and show-stopping design options available on the Inspiron R, Dell makes it easy for people to go online and choose the perfect Inspiron R laptop with confidence, knowing it will be a smart investment that will deliver the ideal technology-by-design for them.

Inspiron R: Key Features

2nd generation Intel Core i3, i5 and i7 processor options and up to 8GB of memory4

Weight starting at 4.94 lbs for the Inspiron 14R5

6-cell battery included with 9-cell battery options6

SRS Premium Audio and high-definition video performance

Intel Wireless Display technology for wireless projection of full 1080p video and 5.1 surround sound to your home theater for a breath-taking movie-viewing experience7

Support for Blu-ray 3D movie playback when equipped with the optional Blu-ray drive and connected to your 3D TV (HDMI 1.4 required)8

Integrated Dell Stage software, providing one-click access to photos, music, videos, social-networking sites, e-books and more

HD capable webcam

ChicletTM-style keyboard9

Genuine Windows® 7 Home Premium with option for Professional

Optional SWITCH by Design Studio lids featuring the new India Collection and designs from OPI, Threadless.com, Susan G. Komen for the Cure, (PRODUCT)RED™ and various artists

Pricing and Availability

Inspiron R

The new Inspiron R models are available today in the U.S. on Dell.com and will be available through Dell's U.S. retail partners in the coming months.

Inspiron 14R (SWITCH by Design Studio model with black lid): Starts at $579.99

Inspiron 15R (SWITCH by Design Studio model with black lid): Starts at $529.99

Inspiron 17R (SWITCH by Design Studio model with black lid): Starts at $579.99

SWITCH by Design Studio lids: Start at $39.9910