Dell Inspiron Mini 9 Netbook Deliveries Delayed Until Past November 18th?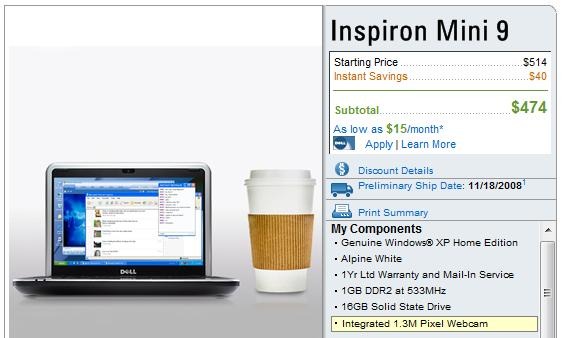 It looks as though Dell's Inspiron Mini 9 netbook may be further delayed, with some order shipping dates reportedly extended to November 18th.  The netbook first encountered a hitch back in September, with reported problems sourcing the chassis assembly; now it appears that a back-order delay in the "LED cover" won't be fulfilled until at least the second week in November.
Update: New delay screen-shot after the cut
In a case brought to SlashGear's attention, the netbook itself was originally ordered on September 30th, and as such looks to take seven weeks in total before Dell believe it will be shipped.  The current estimated delivery date on the Dell customize site is reduced by eight days when no webcam is specified.
Unlike some other systems, Dell does not offer a pre-built non-customized option for the Inspiron Mini 9.  Unless you can find one in stock with a reseller, you may be unable to get your hands on a Dell netbook until well into November.
[thanks Mark!]