Dell Inspiron Mini 10 details rumored: two display & CPU options?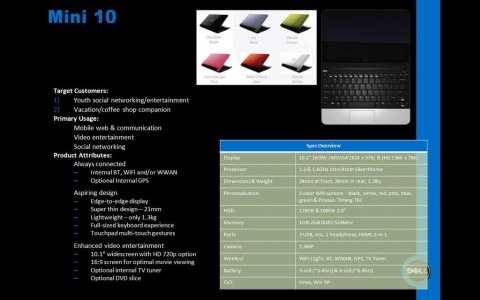 Full-sized image after the cut
Two batteries will be on offer, a 3-cell promising 3-4hrs runtime, or a 6-cell for 6-8hrs; no optical drive is built in, but the Mini 10 will have an optional "DVD slice" which presumably clips onto the base of the netbook.  On its own, the whole thing will measure 28m at the back, narrowing to 24mm at the front, and weigh 2.2lbs; that is, if you go by the stats in the box on the right.  If you read the bullet-points on the left, however, the Mini 10 will measure 21mm thick and weigh 1.3kg (around 2.87lbs).
That's one glaring mistake casting a shadow over the slide's authenticity, which is a shame; one explanation could be the different battery sizes and weights.  Still, the specs generally sound pretty reasonable – WiFi and Bluetooth integrated, GPS and WWAN optional, with 120GB or 160GB 2.5-inch drives and, interestingly, HDMI output – but we may have to wait and see if this pans out once the Mini 10 hits Dell's product pages.
[via Engadget]