Dell Inspiron Micro puts Windows, Bay Trail in a tiny box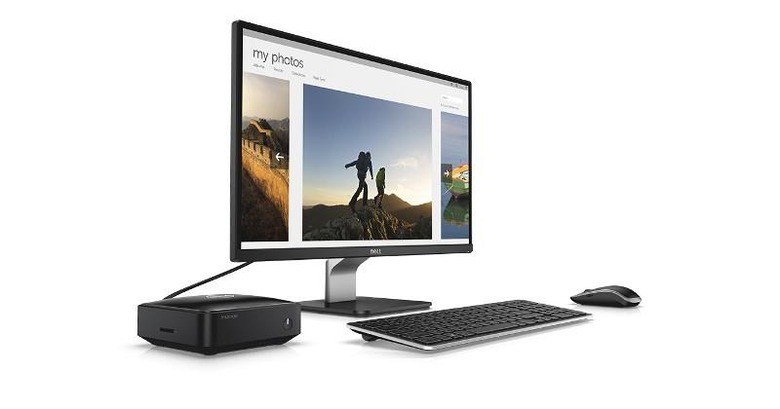 It's amusing to see how desktop computing is becoming smaller and smaller while remaining capable enough for majority of our menial and office-related tasks. Maybe even a bit of multimedia on the side.While mini computers have so far been the territory of lesser known players in the industry, some of the big names are starting to also show their smaller wares. Like Dell's new line of Inspion Micro desktops, designed to sit inconspicuously on your desk while letting you get things done without cluttering up your physical workspace too much.
The form factor of a small unassuming box might remind you of the likes of ASUS' Chromebox, but, as they always say, looks can be deceiving. These boxes, plural because there are two models available, were designed with Windows in mind. At the moment, it comes with Windows 8.1 with Bing out of the box, but given certain promises, it will undoubtedly be upgradeable to Windows 10 when it rolls out.
The boxes are powered by Intel chips, of course. One model has a dual-core Celeron J1800 running at 2.58 GHz while another uses a quad-core Pentium J2900 running at 2.41 GHz, both of the last gen Bay Trail family. Aside for the processors, both boxes' features are quite similar, with 2 GB of RAM and 32 GB of SSD storage. You have the usual HDMI for video output, 4 USB ports for peripherals, an SD card reader, Ethernet for wired connections and Wi-Fi for wireless ones.
Given the hardware, you definitely won't be playing hard core 3D games on this box, nor will you probably be editing videos. It's meant more to sit quietly on your table, or maybe even behind it, while you check email, surf the web, do some word processing, or even play a bit of Clash of Clans. Or Candy Crush if you're from that generation.
The Celeron version of Dell Inspiron Micro sells for $179 while the more powerful Pentium model goes for $229. Dell is also bundling these two with peripherals like keyboards, mice, and monitors, which you will definitely need for this kind of computer.
VIA: LIliputing