Dell Inspiron M501R packs new AMD Phenom II X4 CPU; gets Core i3/i5 13R, 14R, 15R & 17R siblings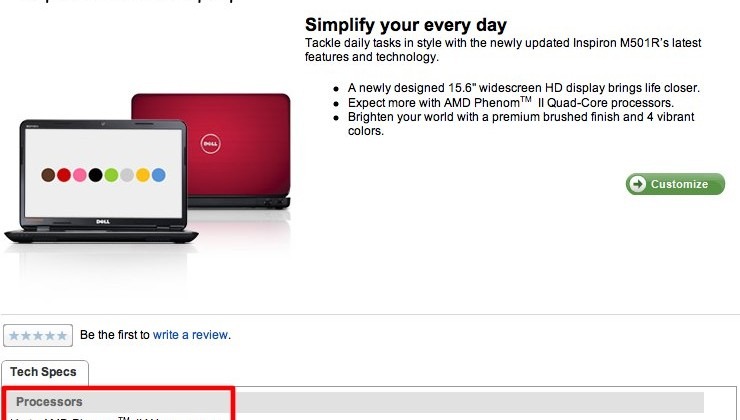 Dell have outed a new range of Inspiron notebooks, the 13R, 14R, 15R, 17R and M501R, each offering greater customisation potential than their non-R siblings.  While Intel's Core i3 and i5 CPUs serve most of the new models, the Dell Inspiron M501R is perhaps more interesting since it marks the debut of AMD's new Phenom II X4 mobile processor, codenamed Champlain, and previously only expected sometime in May 2010.  There's still no sign of an official press release from AMD themselves about the chip.
The Phenom II X4 is a quadcore chip with a clock speed of up to 2.3GHz; however it's unclear which specific chips from the new range Dell will be offering on the M501R.  The CPU is paired with ATI Mobility Radeon HD 4250 graphics as standard, with Mobility Radeon HD 550v 1GB graphics an option.  There's also a 15.6-inch 720p HD-capable display, standard DVD burner and optional Blu-ray.
Meanwhile the 13R, 14R, 15R and 17R have 13.3-, 14-, 15.6- and 17.3-inch displays respectively, Intel HD graphics as standard and various ATI Mobility Radeon GPUs as options.  No word on pricing for the new machines, nor when they'll begin shipping.
[Thanks Fahd!]