Dell E & E Slim ultraportables: look out Eee and MacBook Air!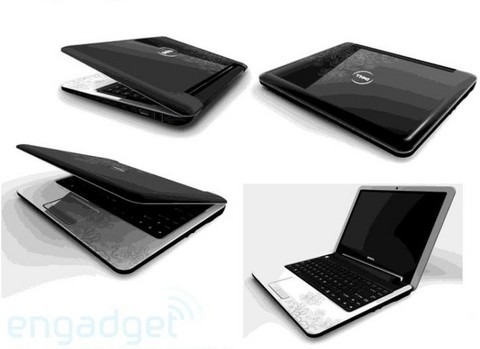 According to the latest set of leaked slides, Dell appear to have ditched their "Inspiron Mini" moniker for the company's upcoming budget ultraportable, and instead picked "Dell E".  The 8.9-inch device will come in three versions, and there will be a "Dell E Slim" notebook with a 12.1-inch display and a chassis just 0.8-inches thick.  Pricing for the Dell E will begin at $299, making for a potentially convincing argument against the Eee PC 901 or MSI's Wind.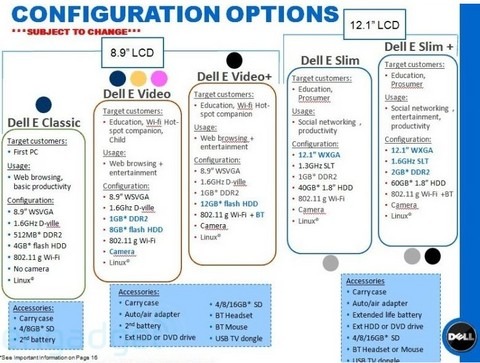 The three versions will be the E Classic, with 4GB flash-based storage and 512MB of RAM, the E Video, which bumps storage to 8GB and RAM to 1GB, and the E Video+ which takes storage to 12GB.  All are powered by Intel's 1.6GHz Diamondville CPU, have a WSVGA display and WiFi b/g.  The latter two models add a webcam, while the Video+ also has Bluetooth.  Each machine apparently comes with Linux and Windows XP, though there's some discussion as to whether the Linux OS is a simple quick-boot option rather than a full-blown OS.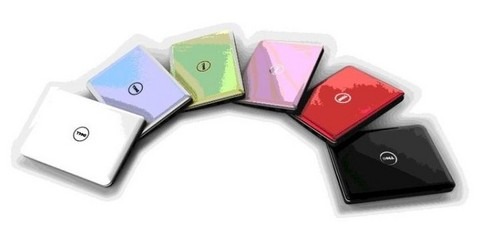 Meanwhile, the E Slim will come in two versions, the basic E Slim – with a 1.3GHz SLT processor, 1GB of RAM and a 40GB 1.8-inch HDD – and the E Slim+.  The latter gets a faster 1.6GHz CPU, doubles RAM to 2GB, adds Bluetooth and gets 60GB of storage.
Availability is expected to be August for the E, with the E Slim coming in August or September; the original models will be followed by versions with WWAN and WiMAX options.  Dell also plan a second wave of updated devices in Q2 2009.