Dell debuts new Latitude XT2 XFR rugged convertible tablet PC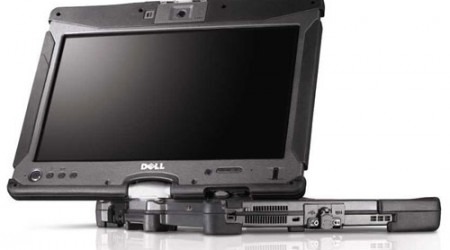 Dell has unveiled a new rugged convertible tablet PC today called the Latitude XT2 XFR. The rugged tablet machine has a 12.1-inch screen and is designed to meet the demands of work in the field. The notebook is 1.5-inches thick making it the thinnest rugged convertible around.
The notebook starts at 5.4 pounds with a 4-cell battery and a SSD. Dell engineered the machine to meet MIL-810G standards for operation in harsh environments and Dell expects to meet MIL-810G certification soon. The rugged tablet features Intel Core 2 Duo CPUs and up to 5GB of RAM.
Battery options include 4-cell, 6-cell, and 9-cell units and the machine has QuadCool Thermal management System to allow it to operate in temperatures ranging from minus 10 to 140 degrees Fahrenheit. The LED backlit display supports multi-touch and gesture control and hot swappable modules are optional. The machine starts at $3,599.