Dell computers come with Napster for a year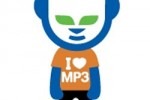 Dell and Napster announced today that certain Dell consumer laptops and desktops would be offered with a year of free Napster service included. The machines are set to start shipping later this month in the UK, US, and Germany.
Systems including the free music service will be from the Dell Studio and Inspiron lines. Some systems with the free music will also be available through Best Buy in the US. The systems will include a year of free streaming from Napster.
In addition to the streaming access, the computers will also include 60 free download MP3s as well. The computer systems will have a Napster icon on the desktop to allow the free access to be set up. The year of free music service is a $60 value.