Dell begins offering SSD drives on select notebooks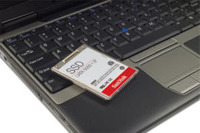 Looks like Dell is ready to jump on board with the whole SSD trend, and not without good reason. They have announced that they will be adding a 32GB SSD drive as an option to two of their laptops.
The first is their ultramobile Latitude D420 and the other is the semi-rugged D620 ATG. These are the perfect laptops to put SSD drives in. We all know that the drives are lighter and more resilient than regular platter-based hard drives. So it would only make sense to put them in light and rugged notebooks.
The laptops are available for purchase today. Upgrading to the 32GB SSD will set you back $549.
Dell spins into solid state drives [via crave]