Dell, Alienware Bring Their E3 Game On With New Gear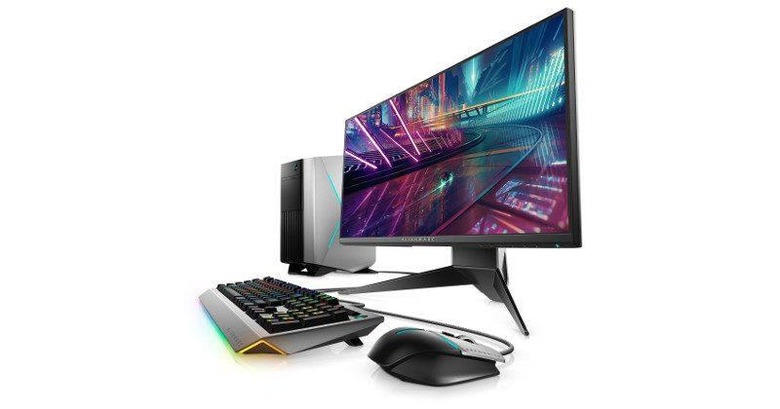 It definitely rocks being a gamer these past few weeks, from the gaming-centric Computex to the annual flood of E3. Of course, it's also a perfect opportunity for hardware and accessory makers to show off their latest wares to the hungry masses. Not one to let the opportunity pass, Dell and its Alienware brand has just announced two new gaming desktops, a notebook sporting NVIDIA's new Max-Q tech, and a couple of accessories to take your gaming to the next level.
While Dell usually reserves its gaming products for its Alienware brand, it did take an unusual turn at Computex last month when it unveiled the first ever gaming desktop under the Inspiron name. It is now making that Inspiron Gaming Desktop available in the US, with a starting price of $599.99. That gets you an AMD Ryzen processor paired a choice of a Radeon RX580 or GeForce GTX 1060, packed inside a traditional tower design with Polar Blue LED lighting.
Of course, Alienware has its own Area-51 gaming desktop and that is getting upgraded with new overpowered multi-core processors. And by multi-core, we mean "16 cores"! The new Area-51 is AMD's exclusive OEM partner for bringing its new AMD Ryzen Threadripper in pre-built systems. For those from the other camp, configurations with Intel's new Core i9 from its X-Series will also be available. The Alienware Area-51 with AMD Ryzen Threadripper comes to market on 27th July while the Intel Core X-Series models will arrive later on 22nd August.
Some gamers prefer their gaming rigs to be a little more portable. For them, the new Alienware 15 might just fit the bill. The 15.6-inch laptop is equipped with an NVIDIA GeForce GTX 1080 utilizing the company's new Max-Q technology, promising higher performance in a smaller package. More details about this laptop will be revealed closer to its 27th June launch date.
Rounding up the flood of gaming announcements are the peripherals that are sometimes just as essential as the computers themselves. The new Alienware 25-inch monitors, which come in a choice of NVIDIA G-SYNC or AMD FreeSync, boast of 240 Hz refresh rates. The Alienware Advanced Gaming Keyboard boasts of mechanical keys with brown switches that gamers just love, while the Pro Gaming Keyboard flaunts its 13 zone-based RGB AlienFX backlighting. For PC games, the mouse is just as critical as the keyboard, which is why Alienware's Advanced Gaming Moses promises both comfort and precision with an on-the-fly DPI switch. The Elite Gaming Mouse, on the other hand, has more buttons than you might think you need, carrying 13 programmable buttons in total. All Alienware gaming peripherals are available 13th June.
SOURCE: Dell