Dell 24-inch G2410 Green monitor gets White LED backlit, cuts 60% power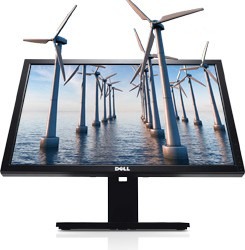 Dell has today unveiled its greenest monitor display with the launch of the G2410, a 24-inch white LED Full HD LCD with EPEAT Gold rating and many power saving promises to deliver great images at 60% less power consumption.
The display features 250 nits of brightness, 5ms panel response time and provides 1000:1 of contrast with ability to extend up to a whooping 1 million:1 dynamic contrast ratio. Panel is TN type with 16.7 million colors and 160/170 viewing angles rating. It's unfortunately not a better e-IPS panel type we would like to see.
But this model is more about the eco-friendly features: The display advertises less environmental impact outfit from recycled materials, packaging to an Arsenic-free glass and mercury-free LED backlight; Additionally, it also packs many advance power-saving functions from Ambient Light Sensor, PowerNap and Dynamic Dimming to help cutting down your power bill. But no worries there, you hardcore gamers! To operate the display at full power, all the features above can be easily turned off.
The tree-hugger Dell monitor is up at company's online store now at $349.