Delkin's ImageRouter reads up to Twelve UDMA CompactFlashs Concurrently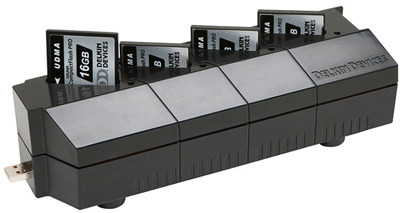 Delkin's ImageRouter is a CompactFlash card reader that offers multiple and simultaneous high speed UDMA transfers for professional photographers. It has a USB 2.0 CompactFlash card reader with UDMA transfer mode and built-in powered hub to support up to 4 CF cards transfer to PC concurrently.
If you need more four CF, you can daisy-chained the ImageRouters up to 12 cards workload. I guess i just found a perfect gift for my aunt sally's decade-old 64MB CompactFlashs that she've been reluctant to update. They also have the BackupandBurn software to import images straight from reader to CD/DVD disc. The Delkin ImageRouter will be available in late March for $149 or as a $249 with bundled software.
[via tgdaily]