DEKA LUKE prosthetic arm to see commercial release in 2016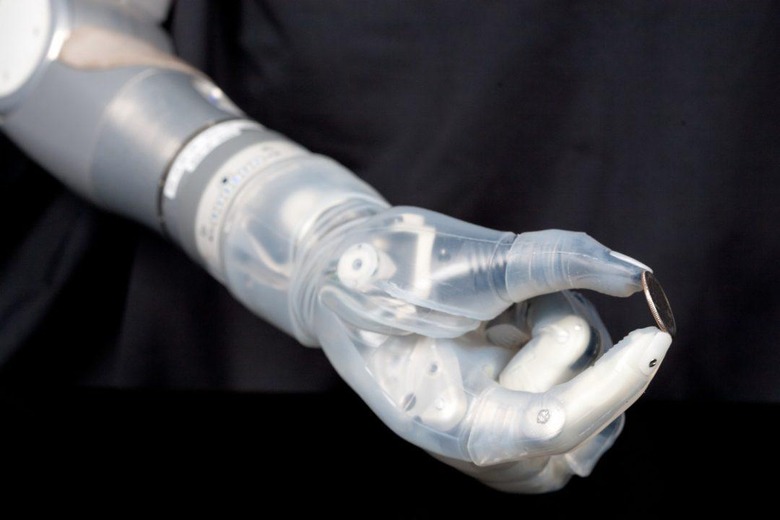 Mobius Bionics has announced that it will be bringing DEKA Research and Development Corporation's LUKE prosthetic arm to commercial markets later this year. The LUKE has the distinction of being the first arm to be cleared by the FDA for its new integrated prosthetic arm category, passing certification back in 2014. Mobius and DEKA say the prosthetic will be available for folks with forearm through shoulder-level amputations in late 2016, though a more specific date wasn't offered.
Also missing from the announcement was any talk of price, but we can't imagine a prosthetic like this will come at a particularly low cost. Still, for those who want to pick one up, the LUKE could offer quite a few advantages, as it's one of the most advance prosthetic arms out there right now. DEKA has been working with DARPA and the Department of Veteran Affairs for years, in one-to-one tests with veterans to create the arm. The result is a complete system that eliminates compatibility issues between all of the moving parts and should give amputees more mobility than competing prosthetics.
For instance, the arm's shoulder allows its user to reach behind their back or over their head, while the hand features four individual motors and a conforming grip that is suitable for handling both delicate and more bulky, heavier items. Users can take advantage of the grip-force sensor to know how they're holding an item, and the wrist the LUKE comes equipped with offers range of motion and a level of dexterity that's lacking from other prosthetics.
"Up to this point, design in prosthetic arms has been limited to incremental changes," said Dean Kamen, president of DEKA, in the announcement. "We developed the LUKE arm to change the game for amputees – creating an innovative, integrated system that offers greater functionality and independence to our wounded warriors and other amputees." Now, after more than 10,000 hours of testing, it would appear that Mobius and DEKA are finally ready to bring the LUKE to market. We'll keep an ear to the ground for more details on LUKE's commercial release date.