Deadpool DVD covers: Blu-rays get photobombed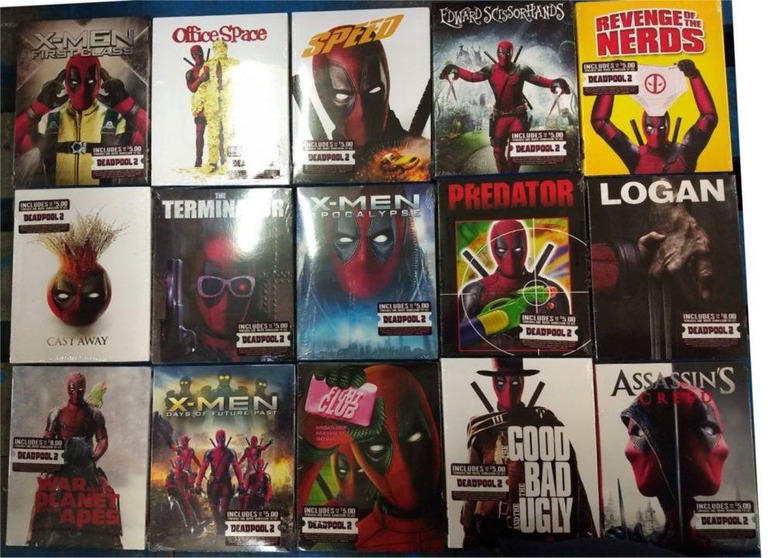 There's a whole mess of Blu-rays at Walmart right this minute with Deadpool slip covers. These DVDs all come from Fox Home Entertainment, and would generally be on the shelf anyway, so they decided to slip some new covers on them before the release of Deadpool 2 in theaters. Today we've got a peek at the whole collection.
Again, these are the SAME Blu-ray disks on the inside, and the DVD on the inside has the same cover. But the most external case – the card stock exterior – has a new take on graphics. Deadpool sits in the place of the main characters, characters get Deadpool additions, and Deadpool sneaks in in one way or another, on the whole mess.
• Assassin's Creed
• Cast Away
• War for the Planet of the Apes
• Edward Scissorhands
• Logan
• My Cousin Vinny
• Office Space
• Predator
• Revenge of the Nerds
• Speed
• The Good, the Bad and the Ugly
• The Terminator
• X-Men Apocalypse
• X-Men Days of Future Past
• X-Men First Class
The photo you see above comes from Reddit user OniNomad. More images come from Reddit's Deadpool forum.
Above you'll see a list of all the Blu-ray disks in this promotion. These covers should be on the shelf right up near the front of the store. They'll have taken over the stand nearest the self-checkout area – or the checkout aisles themselves, if that's how your Walmart works.
Either way, cross your fingers – as not every Walmart seems to be running this promotion. It would likely be up to the local distributor whether they'd like to head out and put the covers on – but it is a nationwide promotion.
These Blu-ray releases cost right around $6-8 USD apiece. Unless you can convince someone at Walmart that they should let you just take the covers – which definitely won't work. Assuming you don't have these movies in your collection already, now might be the best time to pick em up.
Also you'll find a $5-off a ticket coupon for the release of Deadpool 2, which begins this Friday. Deadpool 2 will hit theaters this week, as early as Thursday, May 17th – if you're lucky!