DC Comics Infinite Crisis multiverse Open Beta begins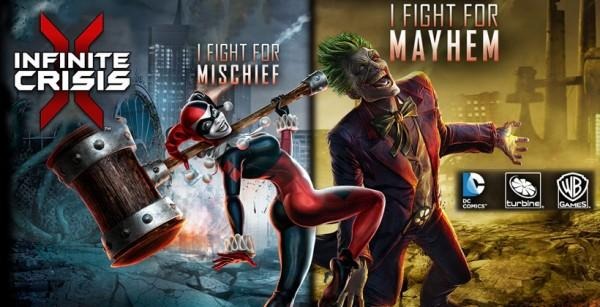 If you're all about the multiple-universe action pushed in the DC Comics Infinite Crisis comic series – or you just like free Open Beta games in general – today there's a MOBA you're going to want to peek at. This game goes by the name Infinite Crisis (of course), and has been released by the developers at Turbine and distributed by the folks at Warner Bros. Interactive Entertainment. You'll be able to play this game – provided you've got the prerequisite powerful PC – right after you hit the download button.
Closed Beta action for Infinite Crisis started all the way back on May 8th, 2013 – it's been a long time coming, this game. Those that participated in the Closed Beta were given – or will be given – a special Beta Icon and Beta Skin, while (at the moment), Open Beta players will be given nothing more than the satisfaction of playing.
For those of you wondering where you've heard of Turbine before – you're not alone. The company hasn't produced a game since 2010, when they also moved Lord of the Rings Online to a Free Play model. They also announced that they'd be making a second Asheron's Call in 2012.
ABOVE: Gameplay from March of 2013 – things have changed since then, but this should give you a good initial idea of what we're dealing with.
Now with Infinite Crisis, Turbine is striking out on their own – so to speak – though they're still owned by Warner Bros. Interactive Entertainment (since 2010). The game is available to download and play as of today – NOTE: when you open that page, a video will (inevitably) play without prompt.
This game is also joined by a promotion from the folks at OriginPC. They've got a snappy-looking Origin gaming rig up for grabs, one that rings in with the ORIGIN MILLENNIUM Case and an Infinite Crisis custom paint job.
New ORIGIN MILLENNIUM Case

Custom Paint Job — Superman

Motherboard: ASUS Maximus V Extreme

ORIGIN CRYOGENIC Custom Liquid Cooling CPU only (refill kit) Ice Dragon High Performance Coolant

Processor: Intel Core i7 3770K

Power Supply: EVGA Super NOVA 1000 G2 Power Supply

Graphics Cards: DUAL EVGA NVIDIA GeForce GTX 770 graphics

Memory: 16GBCorsair Dominator Platinum

Hard Drive 1: 120GB Corsair Force GT – SSD Hard Drive 2: 1TB SATA

6.0Gb/s, 7200RPM, 32MB Cache HDD Optical Drive: 24X CD/DVD burner (DVD+/-RW)

Windows: Genuine MS Windows 7 Ultimate
This beast of a rig will be out to whoever nabs it (hopefully) before the game itself is out of final Beta. At the moment there's no solid release date for the game, but given that it's out of closed Beta now, it couldn't be too much longer!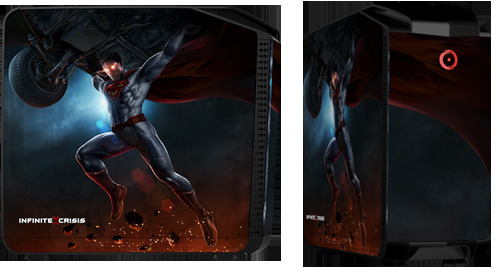 We'll be bringing you some hands-on action with the open Beta later today. Stay tuned and see for yourself what this game is all about.