Dash cuts GPS hardware development & jobs in new licencing plan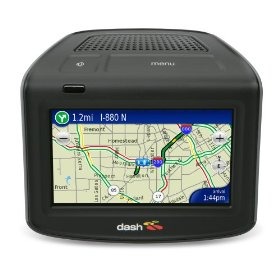 Dash, makers of the highly-esteemed Dash Express GPS device, have announced they will be reorganizing their business model to concentrate on software and system licencing rather than hardware.  In the process, fifty employees (out of a total workforce of around eighty) have been made redundant.  The move follows Dash's struggle to find sufficient buyers for the Express GPS to make it economically feasible; it seems that even with a massive sale at Amazon it wasn't enough to compete in the current GPS race to the bottom line.
Instead, Dash are looking to market their system – which uses integrated WiFi and GPRS cellular data connections to access up-to-date Points Of Interest (POIs), search results from Yahoo!, traffic data and, using the open API, anything else developers care to code – to other manufacturers.  These could include smartphone platforms, netbooks and integrated GPS navigation systems in cars.
One of the layoffs has been CEO and company founder, Paul Lego, who made himself redundant; COO Rob Currie will replace him.  It's likely Dash will focus their new assault on smartphones, which already have high-speed data connections and owners used to subscription plans. 
While hardware sales and development will end, current owners will continue to see new software updates and the Dash Driver Network will continue.  Dash declined to reveal exactly how many of their Express GPS units had been sold.