Das Keyboard offering mechanical model for Macs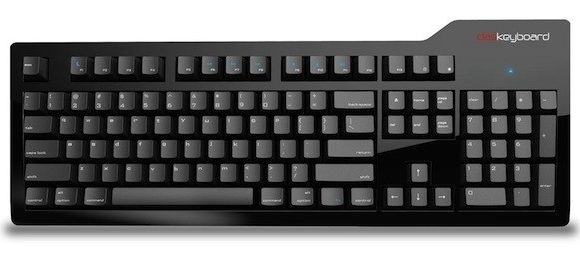 Das Keyboard is preparing to offer Mac users its Model S Professional mechanical keyboard, which promises to deliver the ultimate typing experience, especially for those nostalgic of the legendary Apple Extended and Extended II keyboards. The Model S offers the same great clicky feel but with more advanced features and a slick new design.
The Das Keyboard Model S Professional keyboard for Mac is built using gold-plated mechanical key switches designed to withstand 50 million strokes. There are 104 keys with special shortcut keys for media controls as well as Mac's Command and Option keys. It also offers 6-key rollover, which allows the keyboard to recognize 6 keys pressed simultaneously.
The keyboard offers two USB 2.0 ports for syncing and charging devices such as your iPhone, iPad, or iPod five times faster than you would with other keyboards. It's also KVM switch compatible, meaning you'll be able to control more than one computer, be it Mac or PC, via the keyboard.
Pre-orders for the keyboard have already begun with shipments expected to start April 15. Retail prices is $133, but a 15 percent discount is available on all pre-orders. For another option in mechanical keyboards for Macs, make sure to check out the Matias Tactile One Keyboard.
[via Engadget]