Matias Tactile One Keyboard for your iPhone, Mac, and PC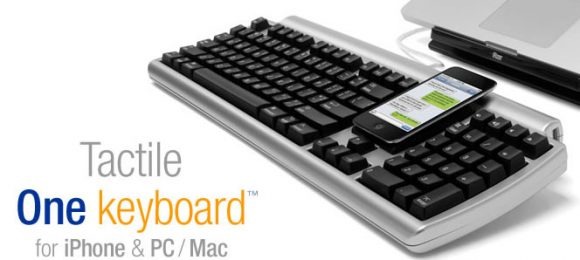 If you're often having to juggle between typing for your work and typing text messages on your iPhone, here's a new keyboard from Matias that does it all. The Matias Tactile One Keyboard lets you instantly switch back and forth between your iPhone and your PC or Mac with the push of button, much like having two keyboards in one. Plus, it's built with buckling spring keys so that even the most discerning typists will be impressed.
The Matias Tactile One Keyboard is built unlike other keyboards made today. Each of its keys use an individual Alps Mechanical Switch for better and faster typing with the feel of Apple's legendary Extended and Extended II keyboards. The keys are also flat, wide, and sculpted to fit the curves of your fingertips.
And for those who type really fast and experience ghosting, such as when letters are missing from what you actually typed or additional ones show up, the Tactile One offers anti-ghosting circuitry or n-key rollover. This way you can type as fast as you'd like and the keyboard will keep up.
The Tactile One is powered through a USB cable, no need for batteries. It offers three USB 2.0 ports, although it doesn't charge your iPhone. The keyboard comes in either a Mac or PC version for $199.95 with pre-orders starting now to ship in May.