DARPA Atlas Robot keeps the feet, upgrades the rest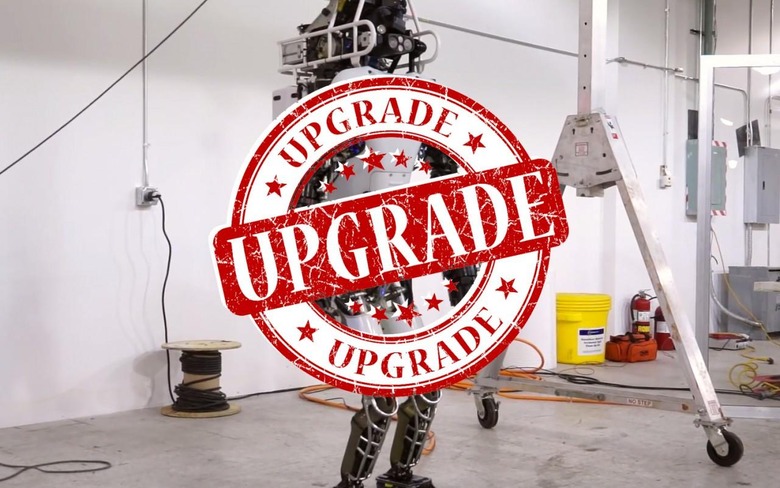 We've been following along with the development of the Atlas DRC robot with Boston Dynamics and DARPA now for some time. What we're seeing this week – today, in fact – is a much-improved release. This robot no longer need to be plugged in to the same degree it did in previous releases – it's also 75% redesigned. Only the lowest bit of the legs and the feet have been kept from the original design – everything else has seen significant change since the last time we saw this amalgamation of power.
According to DARPA, a new 3.7-kilowatt-hour lithium-ion battery pack is one of two major changes to the robot. The other is a variable-pressure pump. With the new and improved implementation of this far larger battery, the robot now has "the potential" of working for an hour with "mixed mission" operations.
These operations include standing, walking, using tools, and a variety of other smaller moves.
According to DRC Program Manager Gill Pratt, "The operator will be able to run the robot on a mid-pressure setting for most operations to save power" – he refers to the new variable pressure pump, continuing, "then apply bursts of maximum pressure when additional force is needed"
"The teams are going to have to game out the right balance of force and battery life," continued Pratt, "to complete the course."
The new pump system and battery were added with just a "modest" amount of extra weight. Weight only increased modestly – overall – because the rest of the unit was redesigned with lighter materials than previous iterations.
This robot is part of the DRC, DARPA Robotics Challenge, which has had some updates recently as well. The first place team (one of 20), will get $2 million in funding to continue their research. Second place will score $1 million, and $500,000 will go to the third place team.
Have a peek at the timeline below for more information on this DRC program and watch as the challenge advances through the rest of this year.