Darksiders 3 officially confirmed for 2018 release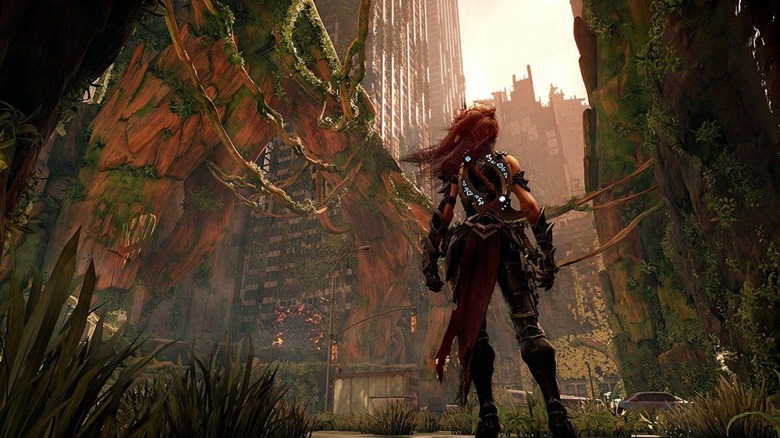 We may receive a commission on purchases made from links.
Once upon a time, we weren't sure if we'd ever see another Darksiders game. For a while there, it looked like the franchise would go down with the bankruptcy of THQ. Now, THQ Nordic has officially confirmed Darksiders 3 after an Amazon listing was posted earlier today, delivering a launch trailer for the game along with a handful of screenshots and concept art images.
In Darksiders 3, players will take up the mantle of Fury, one of the four horsemen of the apocalypse. Fury is the rider of the black horse, and has been tasked with destroying the seven deadly sins. The launch trailer THQ Nordic has released shows Fury accepting her quest and even having an encounter with War, the protagonist of the first game.
For more details, we can look to that Amazon listing. Fury is armed with a whip and magical abilities that she'll use to "restore the balance between good and evil." She can tap those magical abilities to transform into different forms, with each one granting her different weapons and attacks – she'll even use these different forms to traverse the environment, so it sounds like you'll need to use them all to make it through the game.
Like the first two games, Darksiders 3 will be an open-world game that plays out a bit like classic Zelda games. Previous Darksiders games had players exploring an overworld that linked dungeons to one another, hunting power ups and dispatching enemies along the way. Since the Amazon listing promises an "open-ended, living, free-form game world," we're guessing that Darksiders 3 will stick with the established formula.
Amazon gives the game a release date of December 31, 2018, though that is almost certainly a placeholder date. It's very likely we'll see the game before the final day of the year, but THQ Nordic hasn't announced a specific release date yet. For now, have a look at the reveal trailer above and head down to the comments section and tell us if you're excited for Darksiders 3!
SOURCE: Amazon