Dallas Cowboy stadium gets into Guinness record book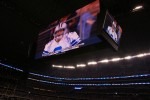 If you are a fan of the Dallas Cowboys, NFL football, or sweet and massive big screen TVs you may have heard about the new stadium the Cowboys are playing in this year. The stadium has a massive 11,393 square-feet of TV screen space.
The massive screen in the stadium was created by Mitsubishi Electric and is now in the Guinness World Record books as the world's largest HD display. The record certificate will be granted right before the Monday Night Football game that will be shown on ESPN.
The huge screen is equal to 3,268 52-inch TVs and has 10,584,064 LED lights. "We're extremely proud of our world-class Mitsubishi Electric Diamond Vision screen," said Dallas Cowboys Owner Jerry Jones. "We have designed everything about Cowboys Stadium to provide an unequalled experience for our fans, and this screen is the centerpiece of what we have created for them."