Daimler E-Fuso Vision One all-electric heavy duty truck has 220 mile range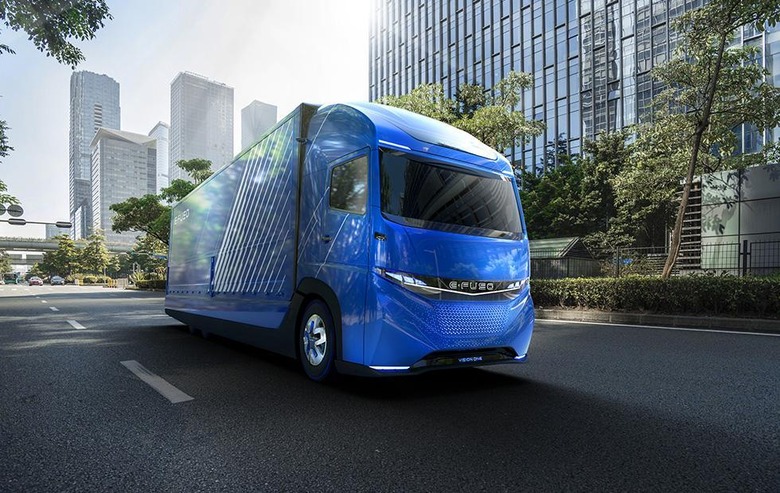 Daimler just unveiled the E-FUSO Vision One, a heavy-duty all-electric truck with a range of 350 kilometers and a futuristic design that won't be confused with gasoline trucks on the road. The E-FUSO Vision One has made its public debut before Tesla's own all-electric heavy duty truck, giving Daimler the upper hand at the moment.
The E-FUSO Vision One is the brainchild of Mitsubishi Fuso Truck and Bus Corporation (MFTBC), and it was unveiled at the Tokyo Motor Show. This move makes MFTBC the first OEM to launch a brand solely dedicated to electric buses and trucks, according to the company. Chief among its efforts is the Vision One, a big electric truck with a bright blue (some might say electrified) design.
MFTBC plans to offer all of its future "electrified" vehicles under the E-FUSO name, according to company CEO Marc Llistosella. The brand will focus just on electric buses and trucks, getting the emission-free EVs on the road to cover purposes includes shuttling people and goods. The E-FUSO Vision One is something of a concept to highlight the feasibility of heavy duty EV trucks.
All-electric heavy duty trucks could help revolutionize the transportation of goods in countries around the world, drastically cutting fuel usage and the emissions that come with it. Battery technology is constantly improving, paving the way for even more capable heavy duty EVs and buses. In addition to being kinder to the environment, the promise of electric heavy duty trucks includes cutting costs for transportation companies.
Talking about the Vision One, Llistosella said:
Our E-FUSO Vision One is an outlook on a feasible all-electric heavy-duty truck. It underlines our commitment to electrify our complete product range. FUSO has been a pioneer in the electrification of trucks for many years.
SOURCE: Daimler