Daimler and Bosch autonomous car ride-hailing starts 2019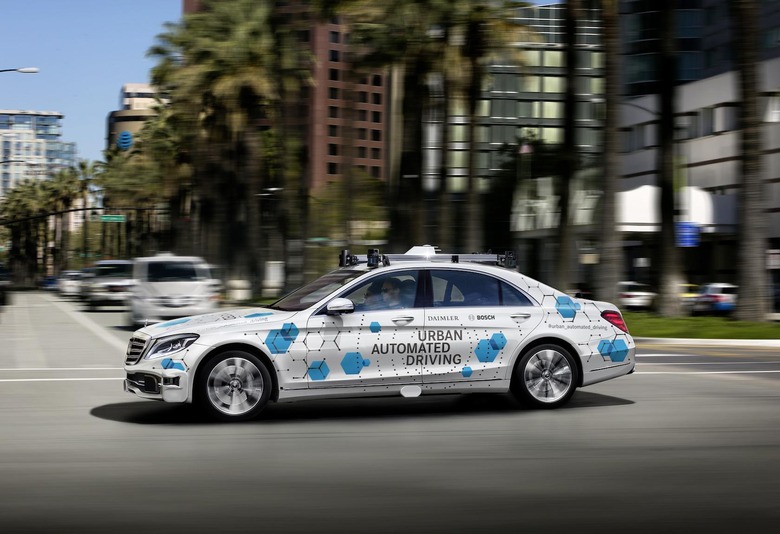 Mercedes-Benz parent Daimler and automotive supplier heavyweight Bosch will start an autonomous ride-hailing service in California next year, offering self-driving taxis. The project will take place in San Jose, the third largest city in California, while the vehicles will be Level 4/5 autonomous, with the ability to drive themselves completely without human interaction.
Daimler will be using customized Mercedes S-Class sedans, the company's luxury four-door. In its production version, that offers features like adaptive cruise control and lane-keeping assistance. For this new on-demand ride hailing pilot, however, they'll be outfitted with significantly more technology.
That will include adding several new sensors to the body of the S-Class. There'll be a roof rack with what looks to be at least four new LIDAR scanners mounted to it, giving the autonomous car a 360-degree view of the world around it. More LIDAR and cameras will be mounted on the lower bumpers.
Bosch will be providing the sensors, actuators, and control units to turn the S-Class into a vehicle capable of driving itself. Both firms will be collaborating on the concepts and algorithms of the autonomous system, which Daimler will then install. The project will be handled by teams in both Stuttgart, Germany, and Sunnyvale, in California.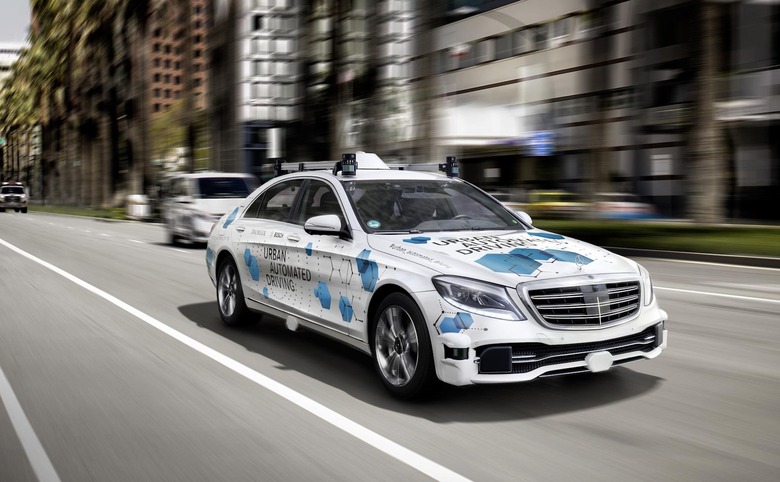 As for how people will actually access it, the two companies won't be throwing open access wholesale. Instead, it will be offering it to "a selected user community" based in the San Carlos and Stevens Creek corridor. That runs between downtown and west San Jose, an area forecast to only get more congested over the next decade.
Daimler and Bosch aren't just hoping to get drivers out of their regular cars and into autonomous versions, however. The companies are also looking to explore how driverless vehicles might be part of a larger multi-modal transportation network, including car sharing, ride-hailing, and other options.
For this as-yet-unnamed service, the cars will be driverless though monitored by a safety driver, Daimler says. It's unclear whether that driver will be located in the vehicle all the time, or monitoring the car remotely. The Mercedes will travel to the user's location as summoned through app, and then take them to their programmed destination automatically.
Testing is expected to start in the second half of 2019. There's no word on how many cars Daimler and Bosch plan to use in the service, nor how potentially interested participants might be able to register to take part.