Diablo 3's Rise Of The Necromancer Release Date Finally Revealed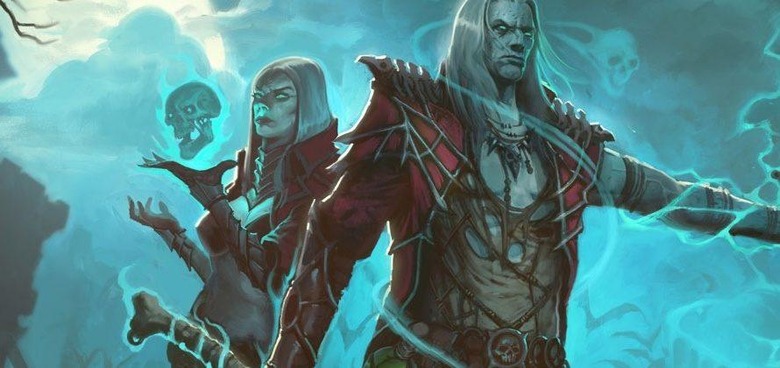 After what feels like an eternity of waiting, Blizzard has finally given a release date to Diablo 3's incoming Rise of the Necromancer DLC. The DLC, as many of you already know (or could have guessed from the title alone) adds the necromancer class to the game, reviving a popular class from Diablo 2. It also ships with a handful of other perks for those who choose to shell out Blizzard's $14.99 asking price.
Obviously, the main draw is the necromancer class, but beyond that, the DLC will also give you a number of in-game goodies. You'll get a half-formed Golem pet to use in-game, along with the Wings of the Crypt Guardian cosmetic item. Just as well, you'll get a number of necromancer items like a new portrait, banner, and sigil, along with two additional character slots.
The items listed above are things that all players will get, regardless of platform. PC players are set to get just a little bit more than everyone else, though, as they'll get two extra stash tabs. Blizzard doesn't say why those on console won't get the extra stash tabs, but regardless of the reason, it looks like your $15 will go just a bit further on PC.
However, there is a special Diablo 3 bundle that will be exclusive to console players. When Rise of the Necromancer launches, those on Xbox One and PS4 will be able to purchase the digital-only Eternal Collection, which bundles the base game, Reaper of Souls, and Rise of the Necromancer together in one release. You won't want to pick this up if you already have Diablo 3 and Reaper of Souls, but it does sound like a good springboard for those who have yet to play Diablo 3 in any form.
Rise of the Necromancer and Diablo 3: Eternal Collection will both be out on June 27. For a limited time after launch, the Eternal Collection will be on sale for $39.99. Blizzard plans to bump that up to $59.99 eventually, but didn't give a time frame for that price hike.