Daft Punk "Lose Yourself To Dance" Comes Correct With Disco Music Video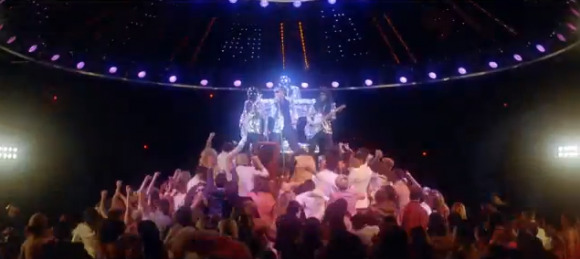 This week the French robot duo known as Daft Punk have unveiled their first "proper" music video for their record Random Access Memories in "Lose Yourself to Dance." This music video harkens back to the warm, sparkly beauty of the disco era with fully reflective jackets for the band, a soft filter on the camera lens, and golden lights shining on high from above. This release also sets itself up as one in a line of retro-aesthetic videos released over the past couple of years as it sticks to the theme of the record itself – new, yet classic.
You'll find Daft Punk bringing the fury in this video on the DJ station as well as the bass guitar while Pharrell Williams heads up vocals. The epic gentlemen playing the clear guitar with R&B glasses is Nile Rodgers. Rogers is best known for his work with Chic, the band that brought you "Let's Dance" and "Good Times", and for co-producing high-powered albums for Diana Ross like "Diana" – in other words, he's a music legend in the flesh.
Speaking with NME this week, Rogers recollected having recorded "Lose Yourself to Dance" in a way that's more than just your average bit of praise:
"It moved me in a way I've only been moved a couple of times before. I can count those times on my hand. When we first played 'Let's Dance' and 'Good Times' for a room full of strangers, and I saw their reaction. When I first heard Diana Ross outside of a recording studio, in a nightclub. People responded in a visceral, primal, spiritual way." – Niles Rogers
Rogers went on to say that they filmed this music video for days. Once they'd finished filming, they played the full video from beginning to end with the single track synced up, resulting in "weeping" and these extras "hugging each other" with happiness.
"I've seen this before and it's people going: 'Something important just happened, and we're a part of that thing.' I was crying too! I kept thinking to myself: 'Thank God I have my own trailer so they don't see me like this. I'm supposed to be in control.'" – Niles Rogers
Needless to say, the team behind this video have had quite a response to the release already – and it's only been out on the web for a few hours. Have a peek at the video and let us know if you've picked up the vinyl as well – having done so in the UK from Amazon specifically puts you in part of history. As noted by The Independent RAM is now the best selling vinyl album in the history of Amazon UK, taking out Adele's '21' as the best-selling vinyl release since Amazon UK opened in 1999 with said wares.