Dabby TV streaming box may have cracked the voice control problem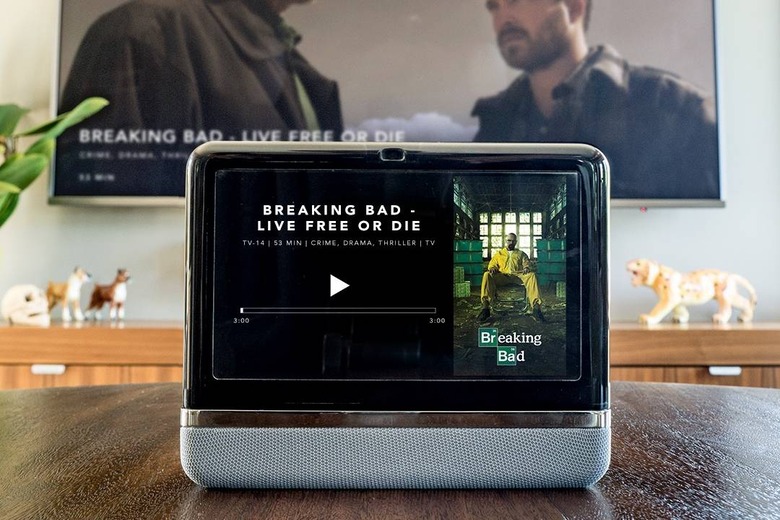 Voice control was meant to save us from the TV remote, but even with heavy-hitters like Amazon and Apple in the living room, we're still not quite there yet. That's a problem startup Dabkick believes it can fix, with its Dabby streaming entertainment system. Pairing a flexible dedicated tablet with an unexpectedly capable AI-powered search, it promises voice access to any content you can find online – without falling foul of the media behemoths.
A two-part set-top box
Dabby's hardware comes in two parts. First, there's an HDMI dongle that plugs into your TV. That connects wirelessly to the Dabby Touch, an touchscreen tablet designed to sit on your coffee table, within reach of the sofa.
Whereas most streaming set-top boxes rely on either a physical remote control or an app, Dabby opts for a combination of touch and speech through that tablet. It's not just an excuse to sell more hardware, though, company founder and CEO Balaji Krishnan insists. He argues that the traditional app and/or remote approach simply isn't doing the TV experience justice.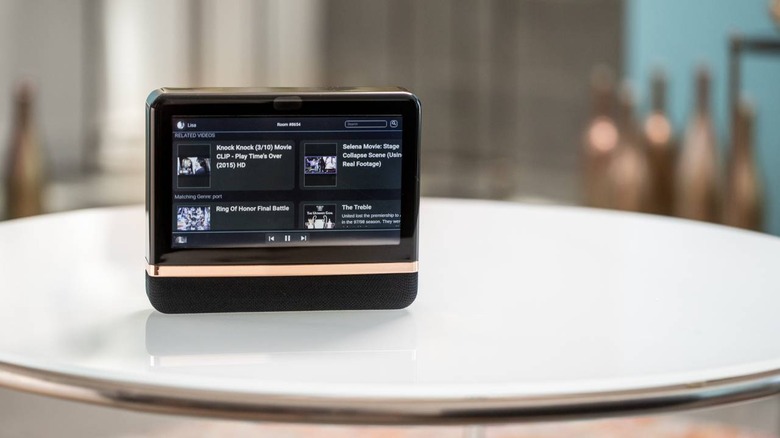 With a remote, trying to navigate more than a few channels or streams, or use an on-screen keyboard, turns into a major chore of button-tapping. Apps need to be installed, demand access to either a communal device or everyone in the home having them on their phone, and if you've switched away to a different app then getting back just to hit pause can take longer than it should.
It's an attitude Dabby shares with Amazon, and boxes like the Fire TV Cube, but Krishnan isn't too impressed with Alexa's streaming control talents. For a start, the assistant lacks the deep metadata to find content across services and websites. You can ask Alexa for a particular show, perhaps, but you might end up having to grab the remote to navigate through and find the specific episode or clip you wanted.
Dabby's magic is in the cloud
Metadata is what Dabby is all about, really. The company built a system to index thousands of video sources, including deep links into more standard services like Netflix, ESPN, and YouTube, but also user-generated sites like Instagram and Twitch. Plug the box in for the first time and it automatically starts streaming, even if you've not logged into any specific account.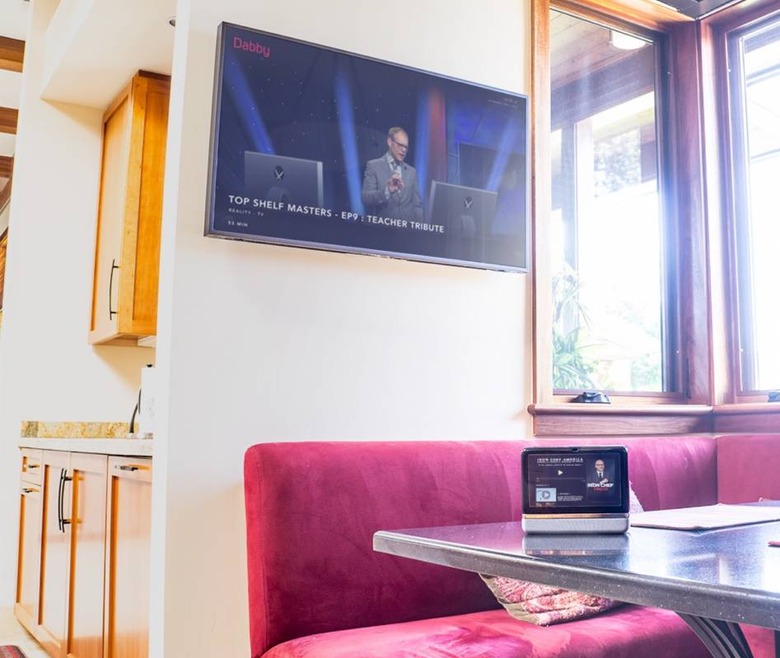 That's paired with an entertainment-focused voice AI, for a degree of voice searching we haven't really seen before. So, as well as asking Dabby to play "Stranger Things" or other shows, you can also request content like "Dabby, play the scene from "Silence of the Lambs" where Hannibal says "Hello Clarice"." Asking for specific sports games – "Dabby, play last night's cricket test match," for instance – works, too. The search engine prioritizes free content, or content you've already got a subscription for if you've signed into, say, Netflix, and immediately jumps to that point in the show.
If there's a specific Twitch player you want to watch, you can ask for them by name. The Dabby Touch display works as a second screen, showing things like live chat, or the comments from an Instagram account. Over time, Dabby promises to learn the sort of thing you're interested in and show more of that content. My tests were with early hardware, using a single microphone which at times struggled to hear me say the wake-word; the final design will have an array microphone which should do much better.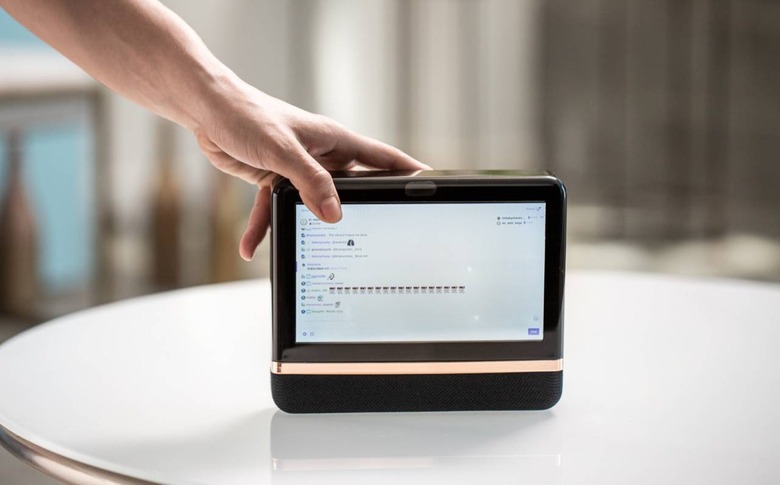 It's impressive, not just for the breadth of content you can search for that way, but the speed at which Dabby loads it. Krishnan says his team builds out the content database with a combination of automated and manual indexing: each source is validated, and it's all licensed content not illegal streams. The company isn't, though, looking to get into the licensing business itself – "it's a money losing proposition," Krishnan says – instead acting as a shortcut of sorts to content that's already out there.
It means that, if Dabby is playing a show from an ad-supported service like Hulu, you'll see the adverts as well. The company doesn't host any content itself, and it won't allow sneaky workarounds to bypass paywalls. Dabby wants to stay on the right side of content owners, and in fact is open to working with specific providers who might pay to be the "sponsored" first result.
A smoother video service
On top of that powerful search, Dabby adds a number of extras. With multiple HDMI dongles, and proximity-based connections, for example, you can pick up the battery-powered Dabby Touch and move it into another room, the content you're watching following suit. If you have a friend with Dabby, you can synchronize watching a show or sports event. Dabby Touch's display shows video of the person you're watching with; a stretch goal on the company's crowdfunding campaign will add a motorized camera, that can retract for privacy.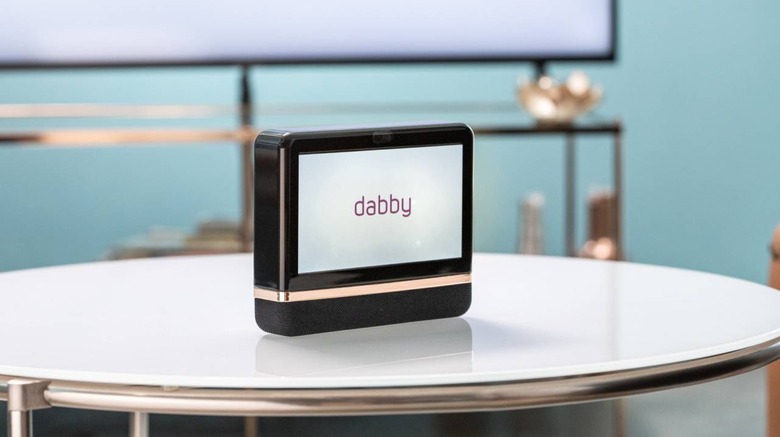 The touchscreen tablet also works for music, with its own speakers, and Dabby's search tool works on musical content just as it does video. Indeed, I could see this side of the tech being of particular interest in the automotive world, where hands-free ways to access multimedia and prevent driver distraction are currently high on the agenda. That's an area the company is open to, Krishnan tells me.
Down the line, Dabby's team isn't short on ideas for where the platform could go next. A premium subscription for extra features is one possibility, as is a payments system whereby you can unlock paid content – like a movie rental – via Dabby, rather than signing up for a separate account with a specific service. As Dabby's AI gets more personalized, the company is also looking at how voice identification could be used to automatically switch between different profiles, depending on who's viewing.
Wrap-up
The living room is getting crowded but the technology behind Dabby is undoubtedly impressive. If, like me, you always remember a specific scene but can never recall where in the movie it was, Dabby's indexing and search could be a whole lot of fun. I asked "play the scene in the dinosaur movie where the guy says "clever girl"," and, sure enough, up popped the right section of "Jurassic Park."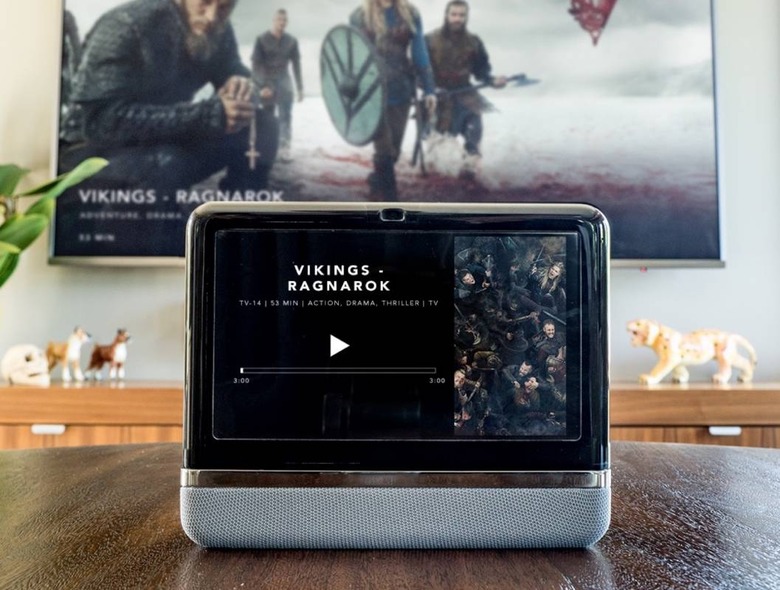 All the same, we've seen plenty of ambitious media companies start up, and then struggle in the face of old-school thinking from content owners and the general heft of the existing players in the space. Dabby's attempts to play nicely with those who own and create the media do, on paper at least, check off all the required boxes. That, though, assumes those content owners are rational. All it would take is Dabby's browser engine being blocked, and suddenly you'd lose access to shows.
Still, it's a lot closer to the vision of voice control in the living room that we've long been promised, and the media-focused AI that powers Dabby is surprisingly capable. The Kickstarter campaign kicks off today, aiming for $50,000 by the end of July 2019, with early-bird pricing of $149 for a Dabby Touch and HDMI dongle pack. Dabby says the retail price is expected to be $299, while extra HDMI dongles will be $49. If all goes to plan, the first units should start shipping by the end of the year.