D-Link unveils SmartBeam and new HD Media Router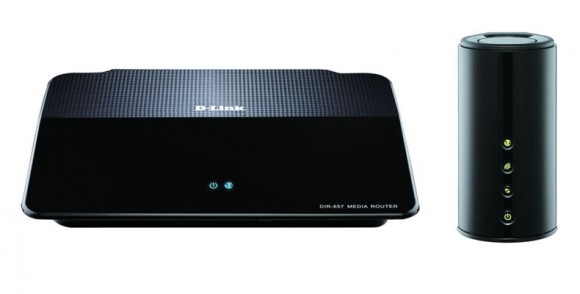 D-Link announced today the launch of its SmartBeam technology along with a new Wireless N HD Media Router (DIR-657). The SmartBeam feature will be debut in a new DIR-645 Wireless N Router and promises a stable and interference-free wireless connection from anywhere within your home such that you get strong and consistent wired speeds with the freedom of a wireless home network.
The SmartBeam works by continually surveying the signal strength of your wireless network's connected devices. Featuring the SmartBeam technology, the DIR-645 Wireless N Router will be able to detect and deliver concentrated signals to where you most need it. It is an ideal solution for households that stream HD movies and games, where you don't want to worry about interrupted downloads. It's also great for connecting multiple devices with a strong and consistent signal whether they are up in the loft or down in the basement.
D-Link's new Wireless N DIR-657 HD Media Router is optimized for streaming HD movies and games. It has built-in DLNA support, meaning you can easily connect a USB hard drive for the router to start streaming music, movies, pictures, and more onto a compatible media player, such as a Boxee Box. It also offers an SD memory card slot.
Pricing for the DIR-645 Wireless N Router with SmartBeam starts at a RRP of £79.99 or about $109. The DIR-657 Wireless N HD Media Router is priced at a RRP of £89.99 or about $122. More specs for each router is shown below.
DIR-645 Wireless N Router with SmartBeam Technology:
· 300 Mbps Wireless N
· Improved coverage with SmartBeam™ technology
· Gigabit ports for the fastest wired speeds
· Wi-Fi Protected Setup (WPS) to encrypt a wireless network at the touch of a button
· SharePort™ to share printers, USB hard drives on a home network
· D-Link Green: power-saving technology
· IPv6 ready for the future Internet standard
DIR-657 Wireless N HD Media Router
· 300 Mbps Wireless N
· Gigabit ports for the fastest wired speeds
· SD Card slot to share files and media over the network
· Built-in DLNA certified Media Server
· Wi-Fi Protected Setup (WPS) to encrypt a wireless network at the touch of a button
· Free Dynamic Parental Control to filter web content by category
· SharePort™ Plus to share printers, USB hard drives, or a 3G data connection
· IPv6 ready for the future Internet standard
· D-Link Green: power-saving technology