D-Link ShareCenter Pulse 2-Bay Consumer NAS Revealed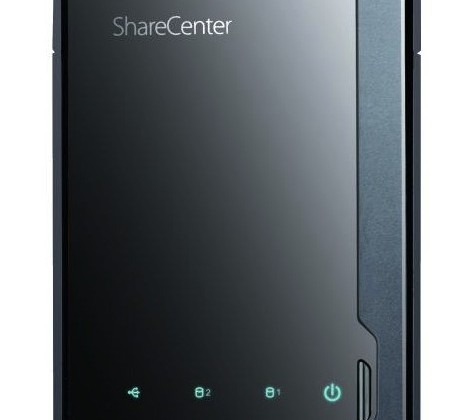 D-Link's latest two-bay NAS has arrived, in the shape of the D-Link ShareCenter Pulse. The first product from the company's fledgling consumer-centric refresh, with the DNS-320 packing a pair of 3.5-inch SATA hard-drive bays, UPnP media streaming, iTunes server functionality, standalone BitTorrent downloads and various power management systems that D-Link reckons make the ShareCenter Pulse relatively green.
They include hard-drive hibernation and "Green Ethernet", which intelligently controls networking power consumption based on the state of your cabling, together with a smart fan that automatically adjusts according to temperature. You can also schedule fixed downtime, turning the NAS off when you won't be needing it, and use it with Apple's Time Machine backup.
Despite the consumer focus, there's FTP server support and user quotas, along with print server and USB backup (with a one-touch button) functionality; you do only get one gigabit ethernet and one USB 2.0 port, however. It'll go on sale in the UK today, priced at £89.99 ($141) with no drives.
Press Release:
D-Link launches first new product from its ShareCenterTM storage range

ShareCenter Pulse let you easily share, stream and protect your digital content

London – 6th December 2010 –To help consumers access and secure their Digital Home content, D-Link today announces the launch of its ShareCenterTM Pulse (DNS-320) network storage solution, which is primed to capitalise on the increasing market demand for digital storage in the home. ShareCenter Pulse is the first product in D-Link's new storage range, recognising how today's consumers require reliable and easy-to-use storage as they are creating and purchasing more digital content (including photos, music, movies and work files) than ever before.

"The appetite for digital content today is already staggering and this will only grow as consumer behaviour continues to evolve," said Chris Davies, general manager D-Link UK and Ireland. "Our new ShareCenter products will provide home users with easy-to-manage, plug & play storage capability that will enable them to share and back-up their personal digital content. With our Boxee Box now on the market, ShareCenter Pulse is an ideal complementary product for users looking to access and share content over the network or the Internet."

Access, share, stream, protect

D-Link's ShareCenter Pulse (DNS-320) allows consumers to centralise, secure and share all of their files in an easy and convenient way. ShareCenter effectively acts as a central digital hub users can treat as a bank for their digital content, which they can top up or withdraw from in any location. Every ShareCenter product connects directly to a home network by plugging into the router and allows files to be accessed from any networked device in a home, as well as offering remote access to friends and family.

Digital content, such as music or movies that have been downloaded or streamed from the Internet, can be saved directly onto ShareCenter before being shared, or watched from the comfort of the home. Important files, like photos, music, movies and documents, are automatically backed up and protected with built-in ShareCenter backup, while managing content stored on the device is simple through the user-friendly interface. As consumers begin to increasingly rely on digital content, the home storage experience must be optimised for all their needs while being easy to use. As such, D-Link is committed to making storage technology accessible for all consumers, irrespective of their technical expertise.

Product specification:

ShareCenter Pulse (DNS-320):

Two 3.5" SATA HDD bays

Direct media streaming with UPnP Media Server

FTP server for remote access to files across the Internet

iTunes server

Built-in BitTorrent client to download without a PC

User quotas for security and confidentiality

ShareCenter Pulse is also an eco-friendly NAS appliance with the following energy saving features:

- Hard drive hibernation – which helps to reduce power consumption and noise, and also extends the life of the hard drives

- Low power consumption – the device is powered by low power consumption CPUs and therefore consumes less power

- Smart fan design – fan speed automatically adjusts based on the internal temperature to efficiently dissipate heat and conserve power

- D-Link Green Ethernet – the device supports D-Link Green Ethernet allowing the device to optimise power usage based on dynamic cable detection

- Schedule power off – the schedule power off feature offers the ability to power down the device when not in use

Pulse is available from the 6th December for a RRP of £89.99 including VAT, and can be purchased from D-Link's network of partners, including Amazon, Dabs and ebuyer.

END OF ANNOUNCEMENT

About D-Link

D-Link is one of the world's leading networking companies, delivering innovative, high-performing and intuitive products for consumers. D-Link's consumer products sit at the heart of the Digital Home ranging from wireless routers, media players, storage devices, PowerLine and the award-winning Boxee Box (CES 2010 'Last Gadget Standing'), its entertainment gateway which brings the power of the Internet to the TV. D-Link is very committed to standards-based products and is DLNA (Digital Living Network Alliance) certified. This gives consumers the confidence that their network will work with a multitude of devices now and in the future.

For more information, please visit www.dlink.co.uk