D-link offers limited St. Partrick's Green Savings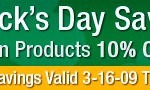 There's more reason than ever to get you some green technology tomorrow (March 17th). It's St Patrick's day and D-link is throwing a 10% discount on company's green products lineup from switchers, routers to storage enclosures.
The offering will last one day only from local computer retailers to Dlink's solution providers and distributors. If you can't locate one locally, the markdown is already online on company's store, and the web savings will last longer until the 20th.