D-Link DUB-9240 Wireless USB Kit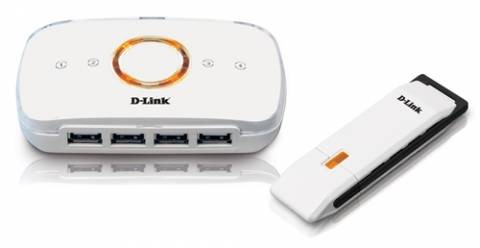 The kit contains two similarly named devices, a wireless USB hub (DUB-2240) and the USB adapter (DUB-1210). The hub has four ports and operates between 3.4Ghz-4.5Ghz so as not to interfere with any other devices.
The two devices work wirelessly just as fast as a wired USB port with speeds of 480 megabits per second, and an effective range of up to thirty feet. The devices also make use of 128 bit AES encryption and can be employed by either USB 2.0 or 1.1 technologies.
The adapter can connect with up to 3 hubs, adding a maximum of 12 USB ports that you never have to actually see. Also there is the real world performance factor, a full 480Mbits/s for 30 feet isn't likely, and adding obstructions such as shelves, cabinets, or walls likely diminishes that distance quite rapidly.
Apparently the two are offered as a kit, but pricing is only for them separate at $220 for the hub and $120 for the adapter. However, WUSB seems to be being built into some laptops, so you might save yourself $120 off the system with a new laptop purchase. Lastly, they both should be available some time in the fourth quarter.
DLink's DUB-9240 Wireless USB Hub and Adapter [via gizmodo]