D-Link DCS-2530L WiFi camera has 180-degree lens and de-warping tech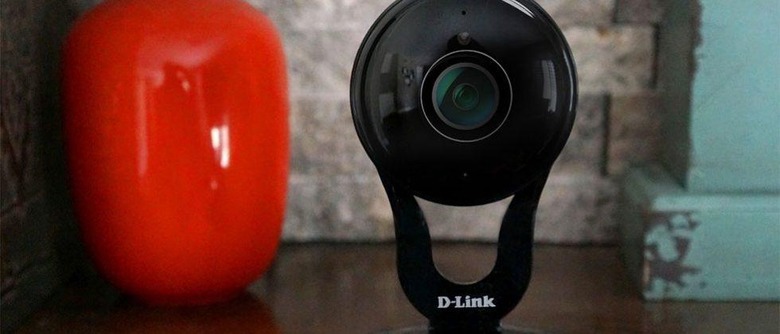 D-Link has unveiled a new WiFi camera that is aimed at home security meant to allow you to see what is going on in your home from afar. The new camera is called the Full HD 180-Degree WiFi Camera DCS-2530L. The camera is shipping now and the big benefit of this device is that 180-degree lens. Most cameras have a 130-degree lens so the D-Link camera gives users a much wider field of view than the competition.
The problem is that most wide-angle lens cameras distort the image with a fish eye effect. D-Link integrated de-warping technology that takes the fish eye view and makes it a more viewable video streaming with less distortion. The camera has an integrated microSD card slot to allow video to be stored on the camera.
"The new Full HD 180-Degree Wi-Fi Camera provides the widest viewing angle available on a fixed camera at a full 180 degrees, allowing customers to see more of their home or small business with a single camera," said Carissa Blegen, surveillance product line manager, D-Link. "With the additional option of local recording to a microSD card, as opposed to bandwidth hogging cloud recording, users don't have to worry about their home security solution affecting their other connected devices.'
The internal storage helps to reduce the impact on network and internet bandwidth. Video can be recorded constantly, only on event triggers, or on a schedule. The video can be accessed from anywhere when streaming via the free mydlink lite app for iOS, Android, and Windows machines. There are no recurring monthly fees for viewing that video.
The camera also has WiFi signal locator to make it easier to place the camera in a spot with good coverage for streaming and recording of video. The camera records in full HD resolution and can see up to 16-feet in total darkness. Users of the camera can be notified via the app when the camera detects sound and motion. D-Link is selling the camera for $159.99 at Target, Best Buy, and via its own website.
SOURCE: D-link