Cyclone roller coaster building kit is LEGO compatible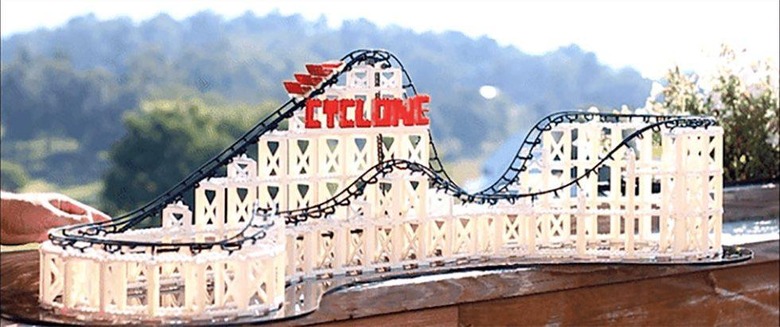 There are all sorts of projects that turn up on Kickstarter and some of them get the funding they seek quickly, others don't. One of the latest projects to get the funding it was looking for is an awesome building kit that is compatible with LEGO called Cyclone. Cyclone is a large roller coaster building kit that actually has working cars.
The Cyclone is the first building kit to be compatible with LEGO and with the CoasterDynamics track system. This means that you can use existing building blocks and the Cyclone kit to build even grander constructs in your home. The makers of the kit also note that you can buy multiple kits and create even larger coasters.
The Cyclone kit comes with over 1,000 pieces and has everything you need to build a 4-foot long working roller coaster. It has standard and custom bricks, lift chain, gears, hand crank, track, and a train. It comes with instructions and can be built with no need for tools. The kit is listed for ages 14 and up, but with help younger kids could certainly build this thing.
The project is on Kickstarter, was seeking $60,000, and has raised over $95,000 as of writing with eight days to go. A pledge of $149 or more will get you a single Cyclone kit with shipping estimated for May 2017. A pledge of $129 or more will get you two kits to build larger coasters. $299 or more will get three kits and an engineering blueprint. $399 or more gets four kits and a racer coaster drawing that shows another coaster that can be built with four kits. At the $499 pledge zone, you get four kits and a single brick with four custom letters printed on them.
SOURCE: Kickstarter