CyberPower Trinity gaming PC looks more like a spaceship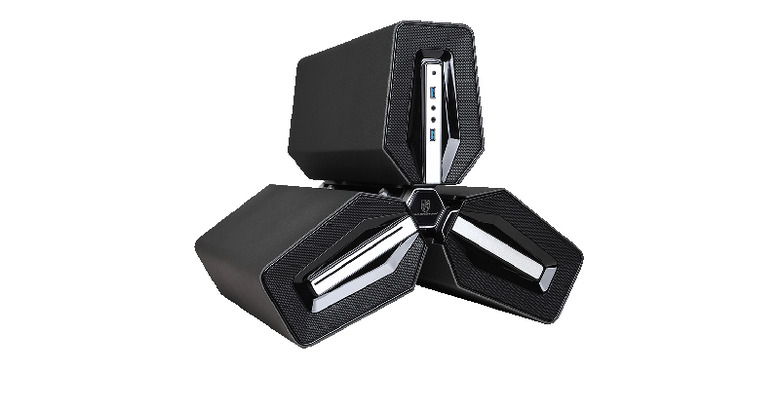 We've seen our fair share of "eccentric" looking, to put it kindly, gaming PCs that cater to gamers that have equally unusual tastes in design. But we have to hand over the crown to CyberPower and its new Trinity PC. Throwing out almost every traditional PC design convention out the window, this gaming PC sports a unique structure and arrangement that is, to put it mildly, really out of this world. Eschewing the boxed form of many computers, the Trinity gives justice to its name and is composed instead of three distinct "blades".
The design of the Trinity isn't completely based on a whim, though CyberPower does somewhat admit that it is also somewhat of a case study, and a very expensive case study at that. The purpose of this triple blade arrangement is to separate the three biggest heat-generating components of a PC into their own blade to facilitate better cooling and air flow as well as make it easier to switch them out without having to affect the others.
The "Performance Blade" houses the graphics card and it is large and long enough to accommodate even the gigantic NVIDIA GeForce GTX TITAN X or one of AMD's Radeon R9 series. CyberPower doesn't mention anything about SLI arrangements but notes that there is enough room to squeeze in some extra SSDs if needed. The "Storage Blade" does what it says and is large enough to fit 3 SSDs, 2 HDDs, and a slim optical drive if so desired. It actually also houses the full-sized ATX power supply that juices up all three blades. Last but definitely not the least, the "CPU Blade" fits a mini ITX motherboard that can support both Intel and AMD processors and have room for a maximum of 16 GB of DDR3 RAM. And to keep things even cooler, it can optional have 120 mm liquid cooling.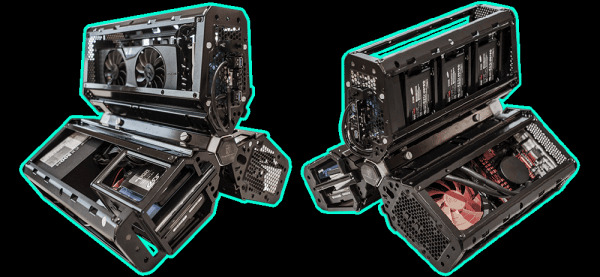 The Trinity is definitely an exercise in creativity and imagination, but fortunately its designers didn't keep their heads in the cloud too long to bother about resilience. The case of the tri-blade gaming PC is made of steel and weighs 10 lbs per blade, giving it both protection and stability. It's so stable that CyberPower claims you can prop it up on a flat surface on only a single blade, with the other two pointing upwards, though you'll probably want to play it safe and stand the whole setup on two blades instead.
There are three basic models of the Trinity gaming PC, each of which can still be configured to your liking. At the lowest is the Trinity 100 with an AMD A10-7700K, 8 GB of RAM, an NVIDIA GTX 750Ti, and a 120 GB + 1 TB SSD combo, all for $955. The Trinity 200 takes it up a notch with an Intel Core i5-4690K, 16 GB of RAM, an NVIDIA GTX 960, and a 240 GB SSD plus a 2 TB HDD. The price also goes higher at $1,339. Then there's the Trinity EXTREME, which is both extreme in specs and in its $1,795 price tag. This one houses an Intel Core i7-5820K, 16 GB of RAM, an NVIDIA GTX 970, and the same 240 GB SSD + 2 TB HDD setup. Shipping for all three models start on May 1.
Thanks for the tip, Len!