Custom Xbox One controller is Greaseproof and nasty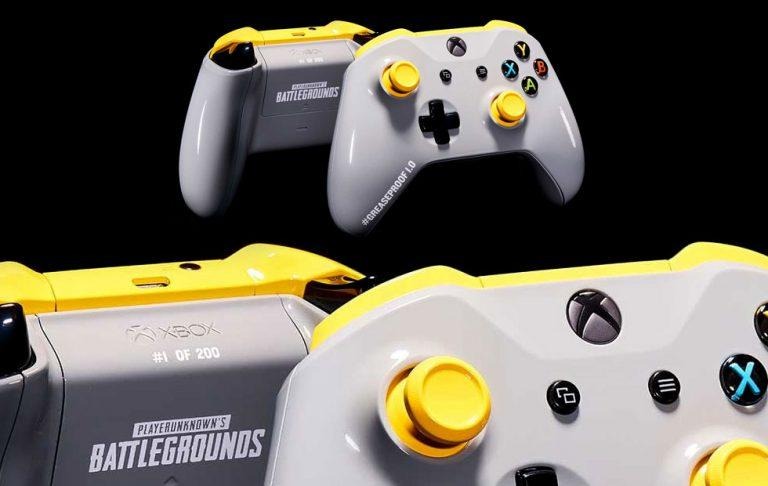 Supposing you've got a collection of Xbox One controllers and you're a completist, you're going to need to get nasty. This is the Greaseproof 1.0 controller, custom made (actually in an edition, so not really unique) by Microsoft to celebrate the launch of PLAYERUNKNOWN'S BATTLEGROUNDS. This is easily the slickest, most shiny, and strangest Xbox One controller of them all.
This strange creation isn't guaranteed entirely grease-proof. Instead it's mostly grease-resistant. It's coated in a urethane coating that makes it highly resistant to materials with consistencies at or around that of grease – which means you'll probably have a tough time staining this thing with your sweat or your various chip-dips.
The complete oddity that is this controller is accented by the colors in which it's delivered. Clearly chosen by the oddballs that run PUBG, this controller is, indeed, emblazoned with the PLAYERUNKNOWN'S BATTLEGROUNDS logo on its battery cover. There on the backside you'll also find the numbering of each controller – there's apparently a collection of 200.
Five of these controllers were given to members of the Xbox ANZ (Australia) public official Xbox-run Facebook page. Now we'll have to cross our fingers that they'll be appearing elsewhere. Don't count on them popping up for sale any time soon. Or, if they are offered up for sale, count on them being sold for charity or personal pan profit on eBay, where the bids would undoubtedly get unreasonably high. For shame!
When's the last time a product you wanted was offered only in the form of a prize for a contest? How mortifying is that? Almost as mortifying as the thought that someone would be eating so very much chicken that they'd need a special greaseproof controller for their Xbox One! This is truly the darkest timeline, really, really and truly.