Custom Lexus RC-F projects driver's heartbeat in glowing paint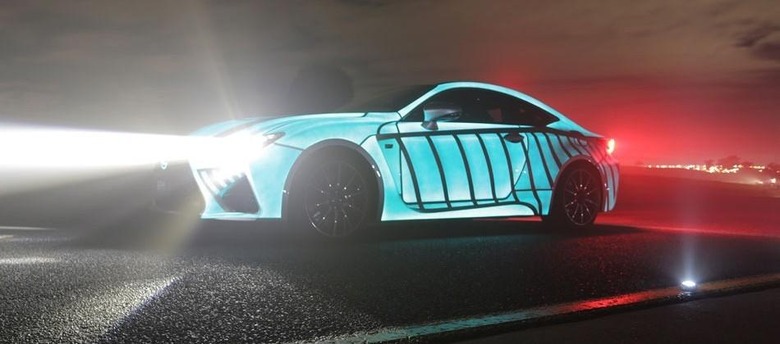 We often hear about unique, special cars that have their own "soul" to them, but about one with a heartbeat? Or, more specifically, one that can display its driver's heartbeat? Well, that's exactly what Lexus Australia has come up with, calling it "the world's first car with a heartbeat," with an aim of projecting the connection between driver and vehicle. The outside of the Lexus RC-F performance coupe is covered in electroluminescent paint, with the side panels pulsing in time with the heart.
The concept project is a collaboration between Lexus Australia, and M&C Saatchi Australia's technology division, Tricky Jigsaw. The goal was to show the effect driving the car has on the driver, both physically and emotionally. "We're changing the conversation from top speeds, to talking about what the car does to you emotionally," said M&C Saatchi director Ben Cooper.
The driver is connected to standard sensors that detect heartbeat, then the data is sent to a circuit board in the car. This is wired to the car's body panels, and the electroluminescent paint is hit with electrical charges in the same pattern as the driver's pulse, causing it to glow. When the system is turned off, the car appears to have a standard silver paint scheme, with no visible signs of the glowing effect.
There are no current plans to bring this technology to production models, but Lexus imagines it might play a part in future cars recognizing and projecting a driver's emotional or physical state, from sleepiness to road rage. M&C Saatchi's Cooper also adds that because the inputs to the control board are "endless," the car's paint could be used to show things like turn signals, breaking, or acceleration.
While these sorts of features could certainly be useful, let's hope they don't get carried away, or else a car's paint job could become even more distracting. Lexus says more details on the Heart Racing project will be revealed on July 24th.
SOURCE Lexus