Curiosity's Whole Mars Mission Is "History Books" Worthy Clarifies NASA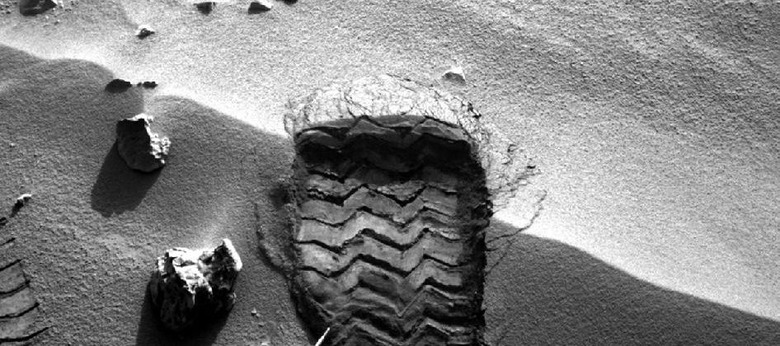 NASA's teased data "for the history books" from the Curiosity Mars rover has all been a huge misunderstanding, the space agency now says, with the reference apparently encompassing the mission as a whole – not a specific finding. Anticipation was built earlier this month when principal investigator John Grotzinger told NPR that "this data is gonna be one for the history books" and that "it's looking really good"; his comments were interpreted as specific to a set of soil sample results Curiosity's onboard labs had just beamed back to Earth, but NASA says it was all a case of confusion.
In fact, Grotzinger's statement had been intended to encompass the Curiosity mission as a whole, NASA clarified to Mashable, not to hint that the sample had contained evidence of organic compounds. Adding to the mix-up was the fact that the project lead voiced his enthusiasm just after discussing the first set of Sample Analysis at Mars (SAM) results had come in, but refused to detail them as they still needed to be checked over.
NASA tweeted out an attempt to calm expectations from the official Curiosity account, but the story had already caught the imagination and – following the identification of an ancient seabed - an organic discovery seemed all too possible.
"What did I discover on Mars? That rumors spread fast online. My team considers this whole mission "one for the history books"" CuriosityRover Twitter account, November 12, 2012
According to Veronica McGregor, NASA's news and social media manager, the NPR team simply happened to be around at the right time to see some very excited scientists at work. "The short story is NPR was there when the first soil results were hitting the ground and the team was ecstatic to see data" she told Slate.
"Could they analyze that data on the fly and give an accurate result?" McGregor continued. "No. In fact, they've spent a good part of two weeks sorting through the data in order to reach conclusions based on solid science."
The results of that solid science will be shared at a press conference on December 3 at the American Geophysical Union meeting, an event that has been on the calendar since before Curiosity reached the red planet. And, while it's possible that NASA's Jet Propulsion Laboratory could have some groundbreaking news from Curiosity, with a two year mission planned, we may have to wait a little longer to see Mars give up some of its secrets.