Curiosity discovers pyramid-shaped rock on Mars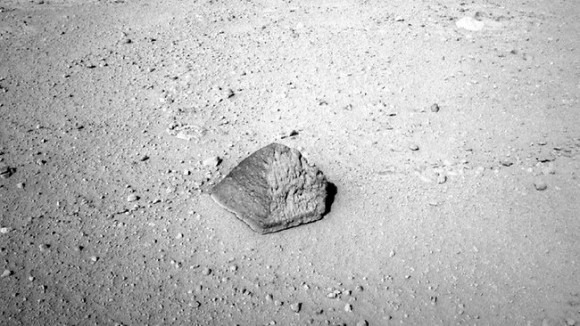 Curiosity is rolling around the surface of Mars looking for interesting rocks to study. The rover has come across a rock laying on the surface of Mars with very interesting pyramid shape. The rock was discovered as Curiosity was cruising to an area known as Glenelg.
NASA researchers expect to find a combination of three different types of geological terrain in the Glenelg area. The pyramid-shaped rock is 2.5 m in front of the rover in the photograph above and measures 25 cm tall and 40 cm wide. Curiosity will take some time to test the rock before it moves on to its target area.
Researchers believe that the rock is a lump of Martian basalt, and researchers have given it a curious name. The rock is called "Jake Matijevic" and is named after the surface operations systems chief engineer for Mars Science Laboratory. Matijevic died just after Curiosity touched down on Mars on August 6.
According to scientist John Grotzinger, the pyramid-shaped rock isn't uncommon and is believed to be a product of wind erosion. He also noted that the consensus is the rock was ejected by an impact somewhere else, possibly outside of the Gail Crater. The researcher noted that the pyramid-shaped rock is weathering slower than the material around it indicating that it's a harder rock.
[via News.com.au]