CTL 2go Convertible Classmate PC Reviewed: Steal It From Your Kids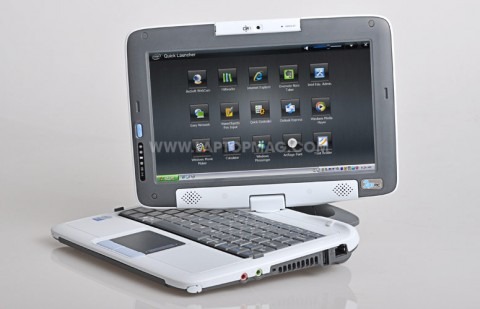 The CTL 2go Convertible Classmate PC (aka Intel Convertible Classmate PC) had its official launch at CES 2009, and many had high-hopes for the touchscreen netbook.  Much of that was down to its already infamous touch-usability, and that's certainly won praise in Laptop Mag's review.  Sitting on top of Windows XP is a quick-launcher CTL call "Blue Dolphin", offering finger-friendly instant access to apps and settings.  As previews suggested, it's one of the most successful launcher implementations on a netbook-style device, and should, according to reviewer Joanna Stern, find favor with adults and children alike.
Negative points include the keyboard not making the most of what space is available – a significant failing when you're dealing with an 8.9-inch system – and slightly "mushy" touchpad keys.  Performance in general is good, with the Atom-based system (paired with 1GB of RAM) doing a reasonable job of multi-tasking.  Data transfers to and from the 60GB 4,200rpm hard-drive were less impressive, however, coming in 50-percent slower than the netbook category average.  More importantly, perhaps, the 2go Convertible managed just under five hours battery life when continuously surfing the net over WiFi.
Overall, then, the CTL 2go Convertible Classmate PC impresses, particularly in its adept touchscreen implementation that sounds enough to make some full-grown Tablet PC's jealous.  At $499 it's more expensive than other 8.9-inch, similarly specified (minus the touchscreen) netbooks, but this looks to be one wasted on just kids.