CTA Wii Rowing Accessory Is $34.99 Too Much [Video]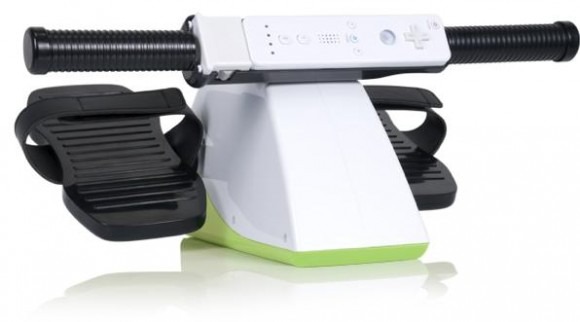 We may receive a commission on purchases made from links.
As much as we love ridiculous accessories, especially for the Nintendo Wii, this one might take the cake. And not just a piece, either, but the whole thing. It's supposed to be a rowing machine (that's what it says in the commercial), and it's actually supposed to help you, some how. We realize that many people consider the Wii a revolutionary work-out assistant, but we have to draw the line somewhere.
CTA is known for making some of the craziest accessories on the market, and they've obviously done well enough to not want to slow down any time soon. This time around, we've got a drawbar/foot pedal combination that the company says is "very similar to a rowing machine you would find at the gym." Now, it may have been some time since we've been to the gym last, but that seems like a pretty far stretch of the imagination. Of course, while you're using it with Wii Sports Resort, that digital row boat will never have felt so real, right?
But, don't take our word for it. There's a video that you've got to watch. It might even be more worth the $34.99. Because even if you don't buy the Wii Rowing Machine from CTA, you can just keep watching this video and laugh, which will probably do you more good than the accessory, anyway. You can pre-order the machine from Amazon right now, if you're honestly interested in it. You'll have until June 27th to regret your decision, anyway.
Press Release:
CTA Digital Introduces an Inventive Rowing Accessory for Wii™

CTA Digital has been leading the game accessory market with bold ideas. Their recent rowing accessory is the perfect companion for Exergaming.

BROOKLYN, NY – CTA Digital (http://ctadigital.com) has introduced their latest accessory for the Nintendo Wii™, the Rowing Machine.

This rowing accessory allows Wii™ users to add some cardiovascular action to their exercises. It is a basic non-electric accessory, which is quite similar to typical rowing machines at gyms. Users can increase or decrease the resistance of their workouts by adjusting the tension knob. The base of the Rowing Machine has secure foot pedals with Velcro straps. The Wii Remote™ goes into a cradle attached to the pull bar.

This simple to setup accessory takes the experience of rowing games to another level, by adding realism and tension to the actions. Being compact, it does not take up too much space in the house, and is also easy to carry around.

Rowing exercises all major muscle groups: legs, arms, back, abdominal, and buttocks. While legs provide most of the power of the stroke, the upper body adds the rest. It adds flexibility around joints, develops endurance, increases aerobic conditioning, and burns calories faster than biking.

This Rowing Machine accessory is compatible with a number of Wii games, including Wii Fit Plus, Wii Sports Resort, Jillian Michaels Fitness, Ultimatum 2009 & 2010, and more.

The Rowing Machine for Wii will be available on Amazon (http://tinyurl.com/3x2drbg) and other retail outlets on June 27th, 2010. If you're curious about how it works, feel free to check out the video demo on Youtube: (http://www.youtube.com/watch?v=b6QaxPU9qBI)

About CTA Digital:

CTA Digital (http://ctadigital.com) has been building efficient and trusted electronic accessories since 1992. They are determined to improve the experience of products from everyday computers to high-end entertainment consoles. Each new accessory built by CTA Digital is designed after months of careful deliberation and user testing to make sure that the final products are safe, practical, high quality, functional, and useful.

Follow CTA Digital on Facebook (http://facebook.com/CTAdigital), YouTube (http://youtube.com/CTAdigital), and Twitter (http://twitter.com/CTAdigital).